Every successful blog relies on an editorial calendar. An editorial calendar is a list of all the topics you plan to cover while job searching (via text, audio, or video) over a defined period of time.
According to ProBlogger's Darren Rowse, here are four reasons you need a content plan:
To combat writer's block: You don't want to be stuck on publication day with writer's block thinking, "Here's another day I didn't post, and I still can't think of anything to write." Having a list of topics in front of you is a great backup plan.

To build good habits: In the long term, you'll need to post consistently over the life of your blog. Planning ahead will force you to post regularly and respond to comments, which is good blogger behavior.

To be seen as a niche authority: The name of the game is establishing your expertise on something. Publishing consistently about your topic is the best way to build an authoritative voice.

To get help with post ideas: The process of sitting down and thinking about the next three to six months of posts gets your mind rolling. After a while, you'll notice that newer and better ideas emerge. Don't be surprised if you find yourself improving your content plan days after you think you've finished.
Creating your own editorial calendar is easy. Follow these steps to get started:
Choose a niche topic that you feel very comfortable with.

All the techniques in the world can't help if you don't know your topic.

Break your topic down into five categories or subtopics and list them at the top of a spreadsheet.

Think of a category in a blog as a chapter in a book. When thinking about your topic, consider breaking it down into categories and then developing content to fit within each category.

List the weeks down the left side of the spreadsheet.

Decide how many times a week you want to post.

Usually, you want to post between three and five times per week during your first three months. (Your blog needs to have a higher frequency of posting during the first three months than at any other time so you can grow your followers and they can trust that you'll stick around.) After the first three months, then you can consider tapering off to two to three times per week.

Come up with a list of specific blog posts you'll write and put the titles of each post under the appropriate category and week.
Pre-writing articles can give you a backup when you're out of ideas, so be sure to pre-write at least five articles before officially launching your content. Doing so gives you some cushion as you get used to this new part of your life. Find the schedule that works best for you.
If you're looking for additional structure around your content planning, it's highly recommended that you download Charlie Gilkie's blog post planners. (Click on Free Planners and then scroll down to find The Blog Post Planner and Calendar section.) Every month, Charlie publishes a new planner designed to help you think about what you're going to write about for each of your categories.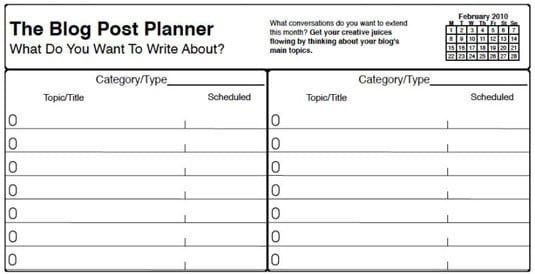 About This Article
This article is from the book:
This article can be found in the category: