Obviously, it's not practical to put an entire line of weight machines in your home, unless you're willing to take out a second mortgage to pay for the weights and for the new wing of the house you'll need to build. A more reasonable alternative is a multigym, which combines several weight-lifting stations into one frame.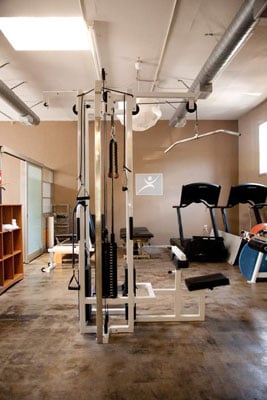 Credit: Photograph by Nick Horne
Most multigyms have one or two weight stacks, meaning that one or two people can work out at a time. Good multigyms give your muscles a sufficient workout, although most models don't feel as smooth or as solid as health-club machines.
A decent multigym costs between $300 and $1,000. Buy from equipment specialty stores, not from department stores and certainly not from TV infomercials. Visit several stores to compare prices.
If you don't live near a specialty store, call the manufacturers and ask for the dealer closest to you. Most top brands have a dealer in every nook and cranny in the country, as well as in many parts of Europe, Asia, and Africa. In some cases, buying directly from the manufacturer is cheaper.
Good multigym brands include California Gym, Hoist, Pacific, Parabody, Paramount, Universal, and Vectra.
Here are some tips for buying multigyms:
Look for sturdy and thick padded seats filled with dense foam. Seats covered with durable material clean easily. The pad is the part of the equipment that has the most body contact, which includes your sweaty body. With a cleanable cover, you can wash away your workout sweat after each use.

Look for machines that use plastic-coated cables as opposed to chains or giant rubber bands. Check all cables for imperfections and fraying.

Try out every exercise station. Some may feel comfortable, while others make you feel like your arm is about to be ripped out of its socket. Look for a weight stack that moves smoothly up and down. Some machines that move smoothly at heavier weights become wobbly and sticky when you're lifting only one or two plates.

Make sure that the parts are easy to adjust. You don't want to waste half your workout fiddling with the arm and seat adjustments to make the machine fit your body.

Look for free assembly. Forget about those "easy-to-follow" directions. Trying to put some of these contraptions together yourself is like trying to build a space shuttle with a step-by-step manual.
About This Article
This article is from the book:
This article can be found in the category: