If you're in the market for dumbbells for your weight training exercises and want to save money and/or space, here are a few inventive gadgets that might suit your needs.
PlateMate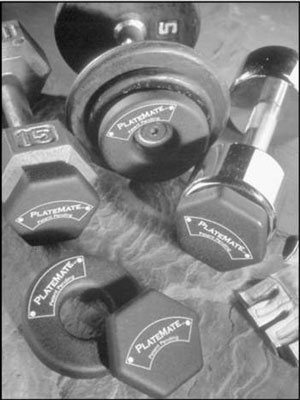 This product is like an oversized refrigerator magnet that you stick on both ends of a dumbbell to increase the weight. Plate mates come in four weights: 5⁄8 pound, 1-1/4 pounds, 1-7/8 pounds, and 2-1/2 pounds. Prices range from $19 to $28 per pair.
PlateMates save you big bucks on dumbbells because you have to buy only half the weights you would otherwise. For instance, transform a set of 5-pounders into 6-1/4-pound dumbbells or 7-1/2-pounders simply by sticking a PlateMate on each end.
PlateMates bond to the weights quite well. Try to shake the dumbbell up and down, and the magnet won't fall off. Removing a PlateMate requires nothing but a quick twist.
PowerBlock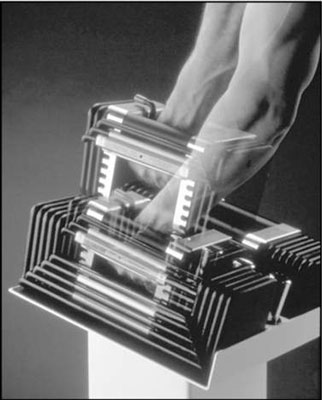 These dumbbells are clever and adjustable but strange looking. Each PowerBlock consists of a series of weighted, rectangular frames, each smaller one nesting inside one slightly larger. Holes run along the outside frame: You stick a two-headed pin in the hole that corresponds to the amount of weight you want to lift, and the pin locks in the number of frames you need to lift.
PowerBlocks save you time — it's a lot quicker to stick a pin in a hole than it is to clamp on new weight plates. For about $600, you can buy a set that builds up to two 90-pound dumbbells. They fit into a corner of the room and take up no more space than your nightstand.
A similar product, Pro-Bell, is easier to use but only goes up to 30 pounds. Pro-Bells usually sell for $299 a pair; their stand costs an additional $149.
SmartLock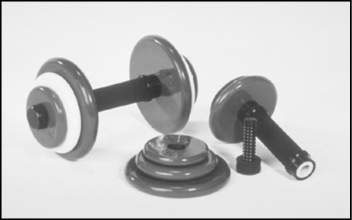 SmartLock is a nice improvement to adjustable dumbbells. They're short bars that come with spring-loaded collars that easily pop on and off. The collars lock the plates on the bars so tightly that they don't rattle around or slide off. For less than $200, you can buy a set that builds up to two 40-pound dumbbells.
About This Article
This article is from the book:
This article can be found in the category: