How to Print a Sheet of Identical Labels in Word 2013
How to Print a Sheet of Identical Labels in Word 2013
One thing Word 2013 does easily and reliably is print labels. You can print an entire sheet of identical labels to make for easy labeling and less writing. Just follow these steps:
1

Click the Mailings tab.

You should see a Create group option.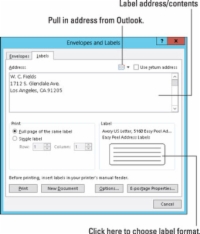 2

Click the Labels button (in the Create group).

The Envelopes and Labels dialog box appears, with the Labels tab ready for action.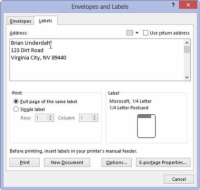 3

Use the Address box to type the text you want printed on the label.

Keep in mind that you have only so many lines for each label and that each label is only so wide.

Press the Enter key at the end of each line.

You can apply some simple formatting at this stage: Ctrl+B for bold, Ctrl+I for italic, or Ctrl+U for underlining, for example. If you right-click in the Address box, you can choose Font or Paragraph from the pop-up menu to further format the label.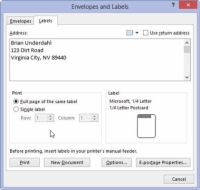 4

In the Print section of the Envelopes and Labels dialog box, select the Full Page of the Same Label radio button.

This will print a full page.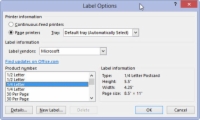 5

In the Label section, choose the type of label you're printing on.

If the stock number that's displayed doesn't match up, click the sample label to display the Label Options dialog box, from which you can choose the proper stock number or design of your labels.

For some weird and unexplained reason, Microsoft appears as the label vendor in the Label Options dialog box. Choose Avery from the list when you use Avery (or similar) labels.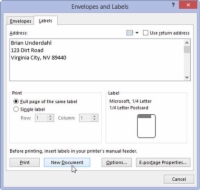 6

Click the New Document button.

By placing the labels in a new document, you can further edit them, if you like. You can also save them so that you can use the same document when you need to print a batch of labels again.
7

Print the labels.

Ensure that the sheet of label paper is loaded into your printer, proper side up. Use the Ctrl+P command to print the labels as you do for any document.

When you elect to save the labels to a new document, avoid the temptation to mess with the table, because it's perfectly aligned to the labels. Neither should you adjust the page margins or paragraph formatting.

There's no need to make two sheets of labels. When all the labels are identical, simply print that sheet twice.