How to Copy a Block of Text in Word 2013
How to Copy a Block of Text in Word 2013
After a block of text is marked in Word 2013, you can copy it into another part of your document to duplicate the text. The original block remains untouched by this operation. Follow these steps to copy a block of text from one place to another:
2

From the Home tab, choose the Copy tool from the Clipboard group.

Or you can use the common Ctrl+C keyboard shortcut for the Copy command.

You get no visual clue that the text has been copied; it remains selected.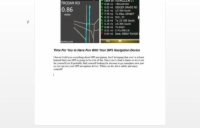 3

Move the insertion pointer to the position where you want to place the block's copy.

Don't worry if there's no room! Word inserts the block into your text.
4

Choose the Paste tool from the Clipboard area.

Or you can use the common Ctrl+V keyboard shortcut for the Paste command. The block of text you copy is inserted into your text just as though you had typed it there by yourself.

After you copy a block, you can paste it into your document a second time. That's because whenever a block of text is cut or copied, Word remembers it. You can yank that block into your document again at any time. You can paste the block into another document you're working on or even into another application.