How to Add a Cover Page in Word 2013
How to Add a Cover Page in Word 2013
Word 2013 allows you the option of a cover page to make your document more presentable. The sneakiest and quickest way to slap down a cover page is to use Word's Cover Page command. Here's how it works:
1

Click the Insert tab.

The Pages group will appear.
2

In the Pages group, click the Cover Page button.

If you don't see the Pages group or Cover Page button, click the Pages button and then click the Cover Page icon.

The Cover Page button displays a fat, fun menu full of various cover-page layouts.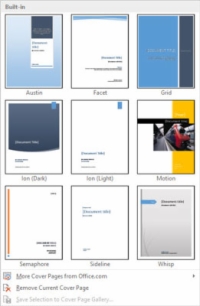 3

Choose a cover-page layout that titillates you.

The cover page is immediately inserted as the first page in your document. The cover page is followed by a page break (not a section break), and it contains bracketed text, such as [Company Name].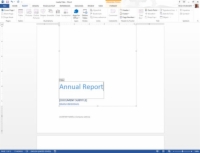 5

Type the required replacement text.

For example, click [Document title]. Then type the document's real title. The text you type replaces the bracketed text.
6

Repeat Steps above until the cover page looks the way you like it.

You can change a cover page at any time by choosing a new one from the Cover Page menu. The new cover page retains any replacement text you typed.

To remove a cover page, follow Steps 1 and 2, but choose the item Remove Current Cover Page from the Cover Page menu. The cover page that Word inserted is removed.

The Cover Page menu doesn't create a new section in your document. Even so, it's treated differently from certain page formatting commands applied to the rest of the document. That means if you add page numbers or a header or footer to your document, that formatting applies to only the second and later pages, not to the cover page.