WebEx Web Meetings For Dummies Cheat Sheet
WebEx Web Meetings For Dummies Cheat Sheet
The WebEx Web Meetings software enables you to have meetings, conferences, and presentations with your clients or employees who can't get together in person. Familiarize yourself with the Meeting Center, the My WebEx menus, and some handy shortcuts to make running your WebEx meetings more efficient.
The WebEx Meeting Center Environment
The Meeting Center is where you host and participate in WebEx meetings, so you'll spend a lot of time there. To get you comfortable with the WebEx Meeting Center, here are a few of the tools and features you'll use.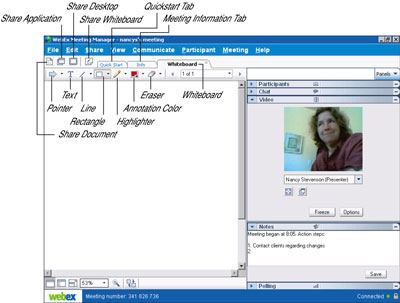 WebEx Meeting Center Shortcuts
From within the WebEx Meeting Center, you can use shortcut keystroke combinations to invoke certain actions. The following table shows you all of the available shortcuts in WebEx Web Meetings.
| Shortcut | Action |
| --- | --- |
| Ctrl+W | Close Meeting Center |
| Ctrl+T | Transfer files |
| Ctrl+Z | Undo last action |
| Ctrl+Y | Redo last undone action |
| Ctrl+Alt+F | Display Font Formatting dialog box |
| Ctrl+Alt+O (oh, not zero) | Share presentation or document |
| Ctrl+Alt+A | Share application |
| Ctrl+Alt+D | Share Desktop |
| Ctrl+Alt+N | Display whiteboard |
| Alt+Enter | Display full screen |
| Ctrl++ (plus sign) | Zoom in |
| Ctrl+- (minus sign) | Zoom out |
| Ctrl+Alt+M | Pass microphone |
| Ctrl+M | Mute/unmute your microphone |
| Ctrl+F | Find participant |
| F1 | Help |
Menus on the My WebEx Page
My WebEx is where you control all your user settings. Display My WebEx by clicking the My WebEx tab on your WebEx site as shown in this figure.

The following table summarizes what you'll find on the My WebEx page.
Menu Name
What You Can Do
My Meetings
Display all your scheduled meetings; access to One-Click
Meetings setup
My Computers
Set up computers to be accessed remotely
My Files
Store files for use in presentations; access recorded event
archives
My Contacts
Enter, import, export, and view WebEx contacts
My Profile
Enter/edit your name/contact information, Personal Meeting Room
settings, and default session type
My Reports
Access usage reports, attendee reports, archived file reports,
and so on
Preferences
Set your home page, time zone, language, and locale
Training
Access information on WebEx training options
Support
Access information about WebEx support
Feedback
Send feedback to WebEx Customer Care