How to Search LinkedIn by Name
How to Search LinkedIn by Name
When you want to find a specific person on LinkedIn, you can search by name. LinkedIn has developed special First and Last Name Search fields to help you find that person. When you search by name, you are required to enter the last name; entering the first name is optional.
When you're ready to search by name, just follow these steps:
1

While logged in to LinkedIn, click the Advanced link at the top of the page.

You're taken to the Advanced People Search page.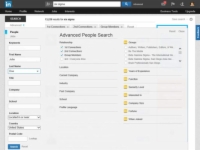 2

Enter the last name (and first name, if you know it) into the Last Name and First Name text boxes.

First names are helpful if you know it. Enter it as you think the member would enter their name on their profile.
3

Input additional information to help find the person you're looking for.

If you know a company where the person used to work or is currently employed, you can input a company name into the Company text box.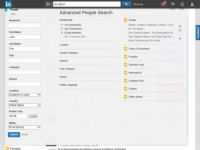 4

If you know the approximate location of this person, use the Location drop-down list to select the Located In or Near option. Then use the Country drop-down list and fill in the Postal Code text box.

Only after you select Located In or Near can you pick a country from the Country drop-down list and input a ZIP code in the box indicated.
5

Click the Search button.

You see a results list of people, sorted by the relevance of your name search and then by the degrees of connection in your overall LinkedIn network. (For example, people who are second-degree network members appear above people who are third-degree network members.)
6

For better results, use filters in your search.

If you haven't already done so, you can add more keywords, a company name, or location information into the boxes provided on the left side of the Search Results screen. Then click the Search button. Also, you can scroll down and pick specific filters to refine your search results.