How to Post a Job Listing on LinkedIn
How to Post a Job Listing on LinkedIn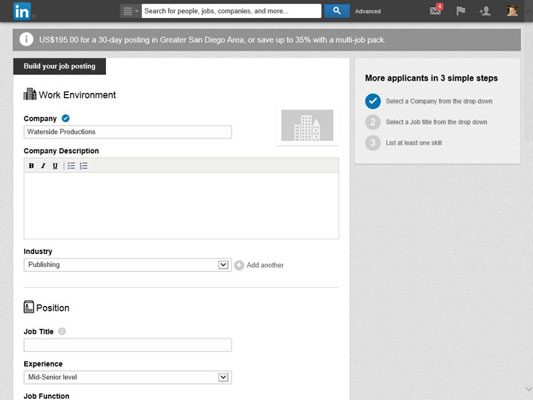 15
Hover your mouse over the Business Services link on the top navigation bar, and select Post a Job from the drop-down list that appears.
You see the Build your Job Posting screen.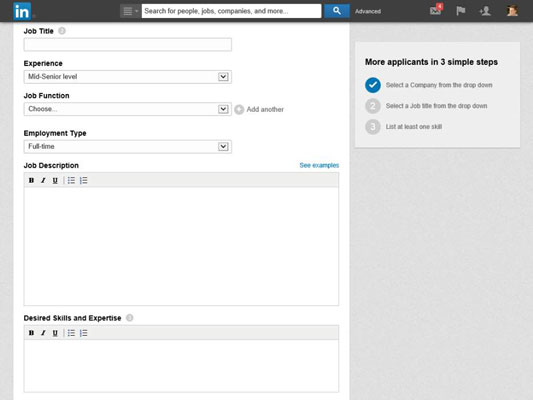 25
Using the text boxes and lists provided, enter the required information about your company and the job you're offering.
When it comes to your company, LinkedIn asks for your company name, a description, and the industry your company represents. As for the job posting itself, you need to specify the job title, employment type, experience level, and function.
When you're done with that, you can scroll down and compose your job description and desired skills and expertise in the text boxes provided or copy the description from another source and paste it into the box. Just make sure any formatting (spacing, bullet points, font size, and so on) is correct after you paste the text.
If your company isn't that well known, you should include some details about the company in the Company Description field. If the job title seems a bit ambiguous, you can elaborate a bit by filling out the skills required for the job title in the Desired Skills and Expertise field. LinkedIn recommends adding at least one skill to the job posting.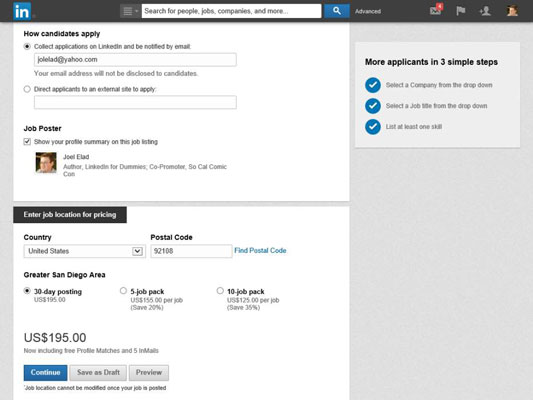 35
Scroll down and fill in the How Candidates Apply and Job Location sections.
LinkedIn automatically offers you the ability to receive applications at one of your existing e-mail addresses, but you can decide which e-mail address should receive applications, or whether applicants should use a direct URL to apply to your job position.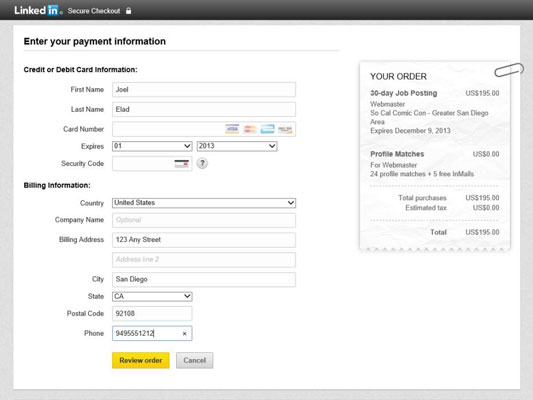 45
Click the Continue button to proceed to the next step, Billing Verification.
LinkedIn analyzes your job listing and looks for matches, but first, it needs your billing information. Even if you are using a pre-paid job credit, you still need to have a credit card on file for verification purposes. Complete all the fields required and click the Review Order button.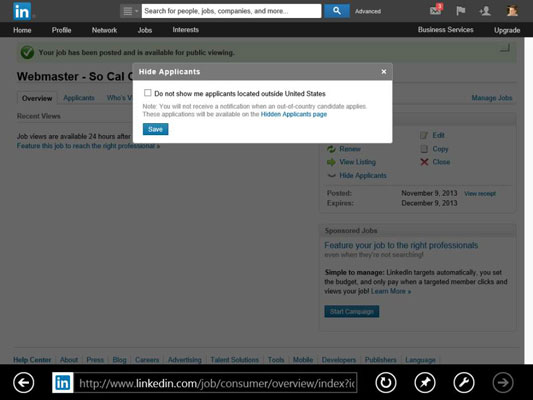 55
Review all the info on the next screen and then click the yellow Review Order button to post your listing.
That's it! You have completed the all-important first step: You posted your job listing. This listing is available through LinkedIn's Jobs Home page, which you can get to by clicking the Jobs link (in the top navigation bar) and doing a search in the search box provided.
After your job listing is posted, LinkedIn pops up a window over the screen, asking if you want to restrict any applicants that don't live in your home country. Simply select the box if you want to limit your applicant pool, and click the Save button when you're done. LinkedIn brings you to your job posting page.