How to Join LinkedIn with an Invitation
How to Join LinkedIn with an Invitation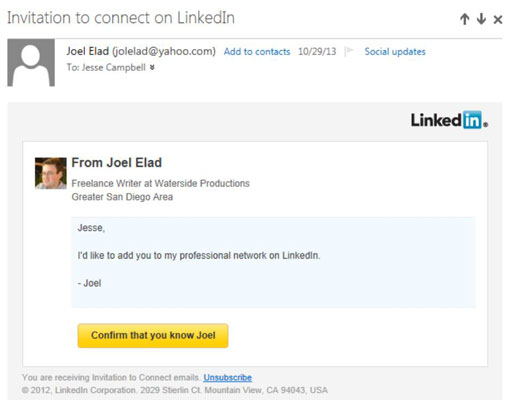 18
When you open the message, you see an invitation to join LinkedIn.
There might be some extra text if the person inviting you personalized the message. You also see a button or link that takes you back to LinkedIn to create your account.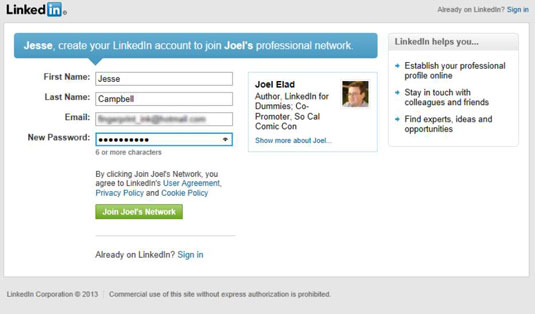 28
Click the button or link from your invitation e-mail.
You should see a new window open that goes to the LinkedIn website and asks to verify your name and e-mail address, as well as enter a password for your new LinkedIn account.
If you want to be known on LinkedIn by another version of your name (say a nickname, maiden name, middle initial, or proper name), or if you want to use a different e-mail address from the one used for your invitation, you can change the details in those fields — First Name, Last Name, Email.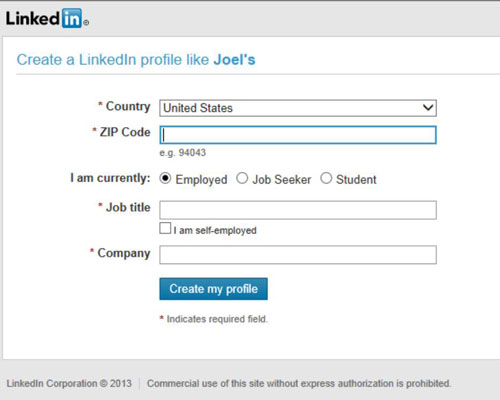 38
Enter your correct first name and last name, and create a new password for your account. Then click the Join Name's Network button.
You'll be taken to the Create a LinkedIn Profile Like (the name of your inviter). At this point, LinkedIn wants to collect some basic information it will use to create your account.
Try to pick a password that no one else can guess. You should use a combination of letters and numbers, and avoid commonly used passwords like your name, the word "password," a string of letters or numbers that are next to each other on the keyboard (for example, "qwerty"), or a password that you use on many other sites.
Complete the fields presented on the Create a LinkedIn Profile page to tell LinkedIn your current employment status, company name, job title, industry, country, and ZIP code.
In the first set of radio buttons, you can choose between three options to identify your current employment status: employed, job seeker, or a student.
Confirm your country of residence by selecting your country from the drop-down list provided, and then enter your ZIP or postal code in the box provided.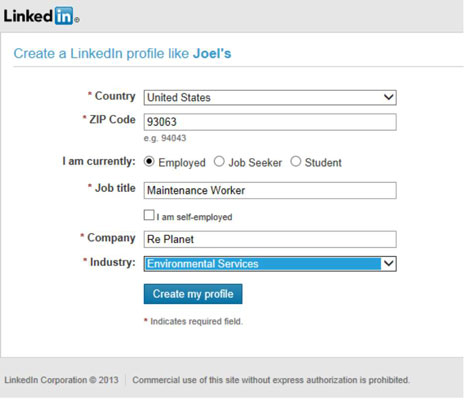 48
Enter your Job Title, and the name of the Company where you are currently employed in the boxes provided. (This includes any self-employed folks out there.)
Depending on your employment status, LinkedIn may reload the page with a new field, Industry. Use the drop-down list to identify which industry you feel you belong to. If you're not employed at the moment, LinkedIn will ask you for your most recent job title and company.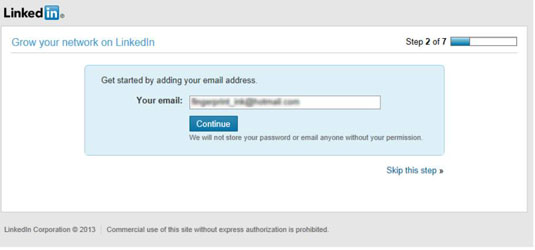 58
Click the Create my Profile button to proceed.
LinkedIn offers to import your contacts from your e-mail program. LinkedIn walks you through the steps of importing your address book, offering you the chance to connect to existing members of LinkedIn. If you like, you can click the Skip This Step link and come back to this after you create your account.
It might be tempting to start inviting friends and colleagues to connect with you right away, but you might want to work on your profile or think of a strategy first before flooding people's e-mail inboxes with invitations. You can always invite people to connect with you at any time.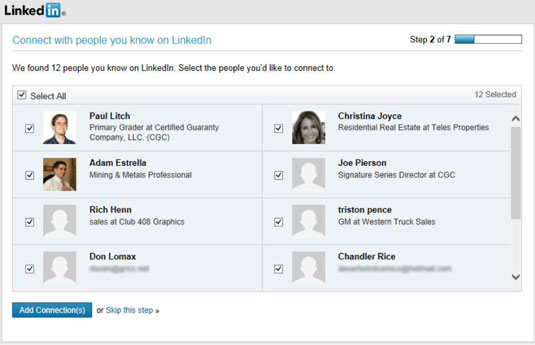 68
Decide who you want to connect with using your new LinkedIn account.
After you import your e-mail contacts, LinkedIn confirms your connection to the person who invited you, and asks whether you want to invite anybody else by looking at your e-mail contacts and showing you which contacts are already on LinkedIn that you can connect with. You can select the check boxes to Add Connections now or you can click Skip This Step and invite people later.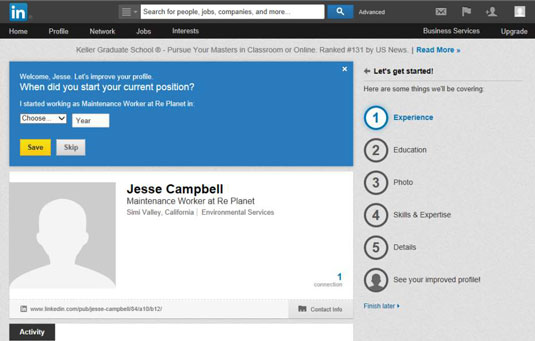 78
Click either the Add Connection(s) button or the Skip This Step link.
LinkedIn offers the ability to send e-mails to those contacts who are not yet on LinkedIn. It then recommends people you may know and suggests you download the mobile application. After that point, LinkedIn creates your account and takes you to your home page.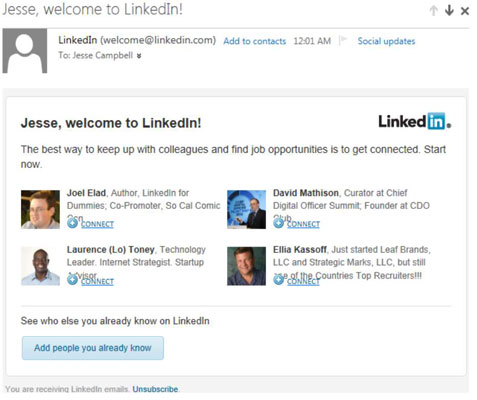 88
If you want to take a break to check your e-mail, you'll find a nice Welcome to LinkedIn! message there from LinkedIn Updates, assuring you that you're now a registered LinkedIn user.
The e-mail includes connection links to people you may know on LinkedIn and lets you look at other people you may know so that you can connect with them as well.