How to Edit or Remove LinkedIn Recommendations You've Made
How to Edit or Remove LinkedIn Recommendations You've Made
Relationships change over time. Sometimes they get better and occasionally they get worse. As you get more LinkedIn recommendations, you might decide that you don't want to display them all, or that you would like some of them updated to support your current branding or initiatives.
Fortunately, neither the recommendation you give nor those you receive are etched in stone (or computer chips, as the case may be). You can edit or remove the recommendations you've written at any time, and you can hide or request revisions to those you receive.
To edit or remove a recommendation you've made, follow these steps:
1

Hover your mouse over the Profile link from the top navigation bar.

Then choose Edit Profile from the Profile drop-down list that appears.
2

Scroll down to the Recommendations section and click the Edit (pencil icon) link.

Doing so brings up the Your Recommendations header along the right side of the page.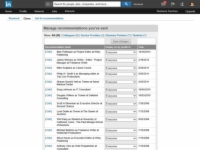 3

Click the Manage Visibility link to bring up the Recommendations page. Then click the page's Given tab.

All the recommendations you've made are listed in reverse chronological order. You can narrow the list down by clicking the link for Colleagues, Service Providers, Business Partners, or Students below the Manage Recommendations You've Sent header.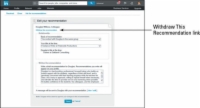 4

Click the Edit link next to the recommendation you want to change or remove.

You're taken to the Edit Your Recommendation screen.

Edit: You can update some of the Relationship choices, such as Basis of Recommendation, or update your Written Recommendation text. When you're done, click Send at the bottom of the screen.

Remove: Simply click the Withdraw This Recommendation link to ditch the recommendation completely. This link can be found at the top of the page, between the person's name and the Relationship header.

An edited recommendation is submitted to the recipient again for approval. If you remove it, it comes off immediately, and the recipient doesn't receive any notification.

You can change the Basis of Recommendation field, which describes the exact relationship, such as whether you worked in the same department, or one of you was subordinate to the other. However, you can't change the type of recommendation; for example, Colleague versus Service Provider versus Business Partner. If you need to do so, you have to remove the current recommendation and write a new one, choosing the appropriate option.