How to Give Your SketchUp Model Some Style
How to Give Your SketchUp Model Some Style
SketchUp Styles allow you to change your model's appearance — the way it's drawn, basically — with just a few mouse clicks. You can create your own styles, of course, but SketchUp also comes with a library of premade ones that you can use without knowing anything about how they work.
Follow these steps to try a couple styles on your model (a doghouse is used here):
1

Choose Window→Styles.

The Styles dialog box opens.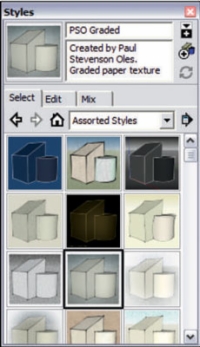 2

Click the Select tab to show the Select pane.

In the Libraries drop-down list shown, choose the Assorted Styles library.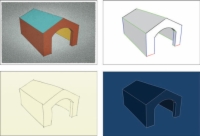 3

Click through the different styles to see what they're about.

When you click a style in the Styles dialog box, that style is applied to your model. The figure shows the doghouse model with a few styles applied — can you figure out which ones?
4

Go back to your original style.

Click the little house icon in the Styles dialog box to see a list of all the styles you've applied to your model. Find the Architectural Design Style (it should be first in the list) and click to choose it.