SQL
Know how to get your data moving when the database says, "Talk SQL to me."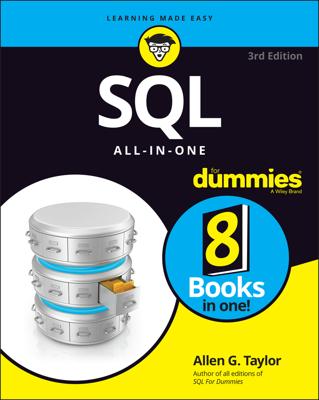 SQL
SQL All-in-One For Dummies
The latest on SQL databases SQL All -In-One For Dummies, 3rd Edition, is a one-stop shop for everything you need to know about SQL and SQL-based relational databases. Everyone from database administrators to application programmers and the people who manage them will find clear, concise explanations of the SQL language and its many powerful applications. With the ballooning amount of data out there, more and more businesses, large and small, are moving from spreadsheets to SQL databases like Access, Microsoft SQL Server, Oracle databases, MySQL, and PostgreSQL. This compendium of information covers designing, developing, and maintaining these databases. Cope with any issue that arises in SQL database creation and management Get current on the newest SQL updates and capabilities Reference information on querying SQL-based databases in the SQL language Understand relational databases and their importance to today's organizations SQL All-In-One For Dummies is a timely update to the popular reference for readers who want detailed information about SQL databases and queries.
Explore Book
Buy On Amazon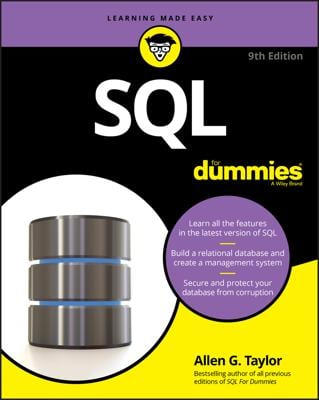 SQL
SQL For Dummies
Get ready to make SQL easy! Updated for the latest version of SQL, the new edition of this perennial bestseller shows programmers and web developers how to use SQL to build relational databases and get valuable information from them. Covering everything you need to know to make working with SQL easier than ever, topics include how to use SQL to structure a DBMS and implement a database design; secure a database; and retrieve information from a database; and much more. SQL is the international standard database language used to create, access, manipulate, maintain, and store information in relational database management systems (DBMS) such as Access, Oracle, SQL Server, and MySQL. SQL adds powerful data manipulation and retrieval capabilities to conventional languages—and this book shows you how to harness the core element of relational databases with ease. Server platform that gives you choices of development languages, data types, on-premises or cloud, and operating systems Find great examples on the use of temporal data Jump right in—without previous knowledge of database programming or SQL As database-driven websites continue to grow in popularity—and complexity—SQL For Dummies is the easy-to-understand, go-to resource you need to use it seamlessly.
Explore Book
Buy On Amazon
SQL
Oracle PL / SQL For Dummies
Find tips for creating efficient PL/SQL code If you know a bit about SQL, this book will make PL/SQL programming painless! The Oracle has spoken—you need to get up to speed on PL/SQL programming, right? We predict it'll be a breeze with this book! You'll find out about code structures, best practices, and code naming standards, how to use conditions and loops, where to place PL/SQL code in system projects, ways to manipulate data, and more. Discover how to Write efficient, easy-to-maintain code Test and debug PL/SQL routines Integrate SQL and PL/SQL Apply PL/SQL best practices Use new features introduced in Oracle 9i and 10g
Explore Book
Buy On Amazon