How to Color Your SketchUp Model
How to Color Your SketchUp Model
To color a model in SketchUp, you have to understand how to spin it around first. Moving around your model is the most important skill to develop when you're first figuring out SketchUp. Run through these steps to apply colors (and textures) to the faces in your model, and to find out about moving around while you're doing it: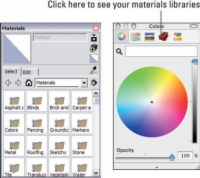 1
Choose Window→Materials to open the Materials dialog box and then click a color or texture you like.
When you do, you automatically pick up the Paint Bucket tool and fill it with your chosen material.
2

Paint some of the faces in your model by clicking any face with the Paint Bucket tool, which is on the toolbar.

Switch materials by choosing another material from the Materials dialog box by clicking it.

3

Paint the rest of the faces you can see.

Loop through Steps 2 to 4 for as long as you like. Finding the Materials dialog box in SketchUp is just like getting a brand-new box of crayons when you were little (you know, the big box, with the built-in sharpener).
4

Choose the Orbit tool.

It's just to the left of the creepy white hand on the toolbar.

5

Click somewhere on the left side of your screen and drag your cursor over to the right.

Release your mouse button when you're done. Your model spins, or orbits! Orbit around some more, just to get the hang of it.

If you're orbiting, and you've dragged your cursor over as far as it will go, and you haven't orbited as much as you wanted to, don't fret. Just release the mouse button, move your cursor over to where it was when you started orbiting, and orbit some more by clicking and dragging. To see what you want to see, you usually need a bunch of separate drags.
6

Zoom in and out if you need to by selecting the Zoom tool and dragging your cursor up and down in your modeling window.

The Zoom tool looks like a magnifying glass, and it's on the other side of the creepy white hand. Dragging up zooms in, and dragging down zooms out.

You can also zoom in and out by rolling the scroll wheel on your mouse, if you're using one.
7

If needed, move around in two dimensions with the Pan tool by selecting it and then clicking and dragging the Pan cursor inside your modeling window.

The Pan tool is the white hand between Orbit and Zoom. Use Pan to slide your model around inside your modeling window without spinning it or making it look bigger or smaller. You can pan in any direction.
8

Use the Orbit, Zoom, Pan, and Paint Bucket tools to finish painting your doghouse.

When you're just starting out, it's easy to get a little lost with the navigation tools (Orbit, Zoom, and Pan). If you find yourself in a pickle, choose Camera→ Zoom Extents. This tells SketchUp to plunk your model right in front of you.