How to Process Raw Images in the Nikon D7100
How to Process Raw Images in the Nikon D7100
Through the NEF (RAW) Processing option on the Retouch menu of your Nikon D7100, you can create a JPEG version of a Raw file right in the camera — no computer or other software required. Follow these steps to get the job done:
1

Press the Playback button to switch to playback mode.

Display the picture you want to process in the single-image view.

If necessary, you can shift from thumbnails view to single-image view by just pressing OK.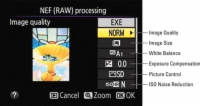 3

Use the Multi Selector to scroll to the NEF (RAW) Processing option. Press OK to display your processing options.

You see a screen similar to the one shown, which is where you specify what settings you want the camera to use when creating the JPEG version of your Raw image. If you press the Multi Selector down, you scroll to the second page of options.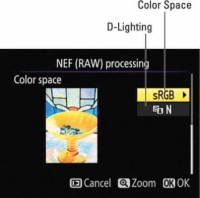 4

Set the conversion options.

Along the right side of the screen, you see a vertical column offering the conversion options labeled. To establish the setting for an option, highlight it and then press the Multi Selector right. You then see the available settings for the option.

Use the Multi Selector to adjust or highlight the setting you want to use and press OK to return to the main Raw conversion screen. Or, if a triangle appears to the right of an option name, you can press the Multi Selector right to uncover additional options.

At any time, you can magnify the view of the image by pressing the Qual button. Release the button to return to the normal display.
5

After setting the conversion options, highlight EXE on the first conversion screen and press OK.

The camera records a JPEG copy of your Raw file and displays the copy. The camera assigns the next available file number to the image.