How to Use White Balance Compensation on Your Canon EOS 6D
How to Use White Balance Compensation on Your Canon EOS 6D
If you find that images photographed with a custom white balance have a colorcast, you can apply compensation on your EOS 6D to remove that colorcast. This is pretty advanced stuff, so unless you know a lot about color correction, color temperatures, and so on, stick to AWB (Auto White Balance) and do any necessary color correction in your favorite image-editing application.
You can only use White Balance Compensation when shooting in the following modes: Programmed Auto, Shutter Priority, Aperture Priority, Manual, and Bulb. So if you're dying to know what it's all about, follow these steps:
1

Press the Menu button.

The previously used menu displays on the camera LCD monitor.
2

Use the Multi-controller to navigate to the Shooting Settings 3 tab.

You will see shooting options.

3

Use the Multi-controller or the Quick Control dial to highlight WB Shift/BKT and then press the Set button.

The White Balance Correction dialog box appears. Notice there are four letters: one at the center top (G for green), one at the center bottom (M for magenta), one at the left center (B for blue), and one at the right center (A for amber).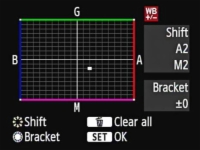 4

Use the Multi-controller to move the dot.

You can move the dot toward one color and then move it up or down to shift the white balance toward a combination of amber and green. When you're adjusting white balance, you have the use of all Multi-controller arrows, which means you can precisely move the dot to exactly where you want to.

When you move the dot, the color shift is designated in the dialog box. In this case, the white balance has been shifted two levels toward amber and two levels toward magenta.

5

Rotate the Quick Control dial to the right to bracket Green and Magenta, or left to bracket Blue and Amber and then press Set.

Your changes are applied and the shift is noted next to the WB Shift/BKT menu command.
6

Use the Multi-controller or Quick Control dial to highlight White Balance.

The White Balance Options are displayed.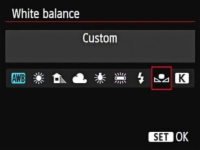 7

Press Set and then use the Multi-controller or Quick Control dial to highlight Custom.

This allows you to access your custom creation.
8

If you've enabled White Balance Bracketing in Step 5, press the Drive button and select Continuous Drive.

Press the Shutter button fully to take a picture.

The color shift is applied to your custom white balance. The colorcast is no more, quoth the raven. If you've enable White Balance Bracketing, your camera takes three pictures with the bracketing you specify in Step 5.

To remove White Balance Compensation, repeat the preceding Steps 1–3 and then press the Info button.