Your Canon EOS Rebel T8i/850D has all the bells and whistles. One incredibly fun feature is the Video Snapshot option. The Video Snapshot feature captures short video clips that are stitched into a single recording, called a video album. You can set the clip length to 8, 6, or 4 seconds long on your Canon camera. (All clips in an album must be the same length.)

When might recording a series of seconds-long clips come in handy? One scenario might be that you're a tennis teacher, and you want to record each serve made by your star student during a match. If you use the Video Snapshot feature, the two of you can easily study just those brief interludes without having to bother with fast-forwarding during a longer recording.

That's the best example that can be offered at this point, but lots of Canon users must like this feature because the symbol that tells you whether Video Snapshot recording is on or off has a permanent home on the information display when the camera is in Movie mode. The symbol is labeled on the left screen below. (If you don't see any data onscreen, press the Info button to change the display style.)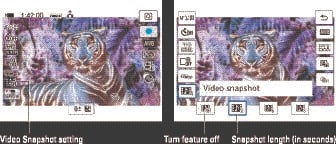 The Video Snapshot feature joins brief video clips into a single movie.

To create a video snapshot on your Canon Rebel camera, press Q to enter Quick Control mode and select the Video Snapshot icon, as shown on the right above. Then set the clip length by choosing one of the icons at the bottom of the screen. Press Q or tap the exit arrow (top-right corner of the screen) to return to shooting mode.

Begin recording as you do any movie on your Canon camera: Just press the Live View button. A blue progress bar appears to let you know how many seconds of recording time remain. When the time is up, you're offered three options: create a new album to store the clip; play the clip; or delete the clip. After you make your choice, you can record your second clip. When you create clip number two, you get a new post-recording option: You can add the clip to the first album or create a new album for it.

You can control a few additional Video Snapshot settings through Shooting Menu 2. If the Video Snapshot item is set to disable, change it to Enable. Then choose that option again to display the available customization options. You can't change the Movie Recording Size setting; video snapshots are always recorded using a setting of FHD (1920 x 1080 pixels), 29.97 frames per second, and Standard IPB compression.

You can't record normal movies when the Video Snapshot feature is enabled on your Canon camera, so when you're done creating clips and albums, turn it off via the menu or through the Quick Control screen.

Want to learn more? Check out our Canon EOS Rebel T8i/850D Cheat Sheet.
About This Article
This article can be found in the category: