How to Make a Pop-Up Christmas Tree Card
How to Make a Pop-Up Christmas Tree Card
Making your own Christmas cards is a great way to save money while spreading holiday cheer. It's super easy to learn how to make a pop-up card for the holiday season. This do-it-yourself card, with a Christmas tree that pops up, is a great craft project for older children. Using a single sheet of card and no glue at all, you can make simple but a great looking Christmas tree pop-up card.
You do need to use a sharp craft knife to create the pop-up effect, so make sure you supervise small children or do the cutting for them.
1

Gather your materials.

You need 1 sheet of thin white card; pencil and eraser; ruler; scissors; sharp craft knife; cutting mat.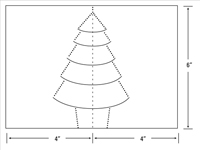 2

Using a pencil and ruler, mark out the card.

Draw the curves freehand, trying to get them centered over the center crease.
3

Score along the dotted and dashed lines with the point of a pair of scissors.

Older children should have no problem with this step, but younger kids may need some help.
4

Cut all the internal cut lines with a sharp craft knife.

To make a cut with a sharp craft knife, place the piece of paper in the middle of a cutting mat and carefully cut out the shape. If you are supper accurate, the spare pieces will drop out as you pick up the card.