Wrapping presents in gift bags and tissue paper is quick, versatile, and economical. The bags are reusable or recyclable and are perfect for wrapping oddly shaped gifts of all sizes. Gift-bag designs range from plain to over-the-top gorgeous, and tissue paper comes in a rainbow of colors.
Gather up a gift bag, tissue paper in a coordinating color(s), gift tag, and (optional) embellishments.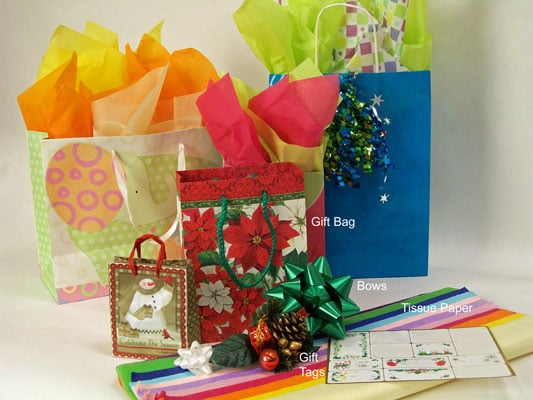 The bag should be two or three times larger than the gift. Always try to use fresh, new tissue paper for best results. Relegate used tissue paper to the bottom of the bag to act as cushioning or filler underneath the gift if the bag is deep. Remember: Remove or cover the price of the gift bag. A recipient should never know the price of anything that's gift-related — unless the gift needs to be returned or exchanged, of course.
If the gift is fragile, loosely wrap it in some tissue paper and set it aside.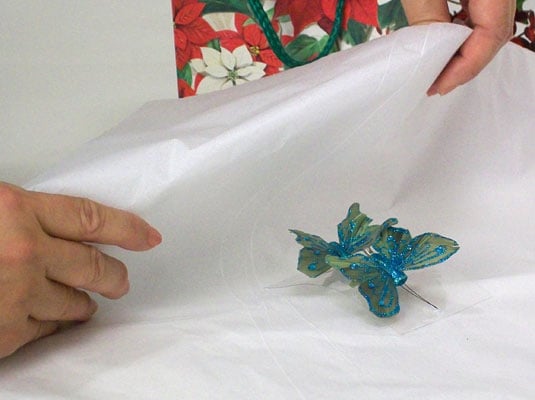 No need to tape the tissue!
Place three or four sheets of tissue paper on a flat surface, overlapping each sheet by a few inches; place the gift in the middle.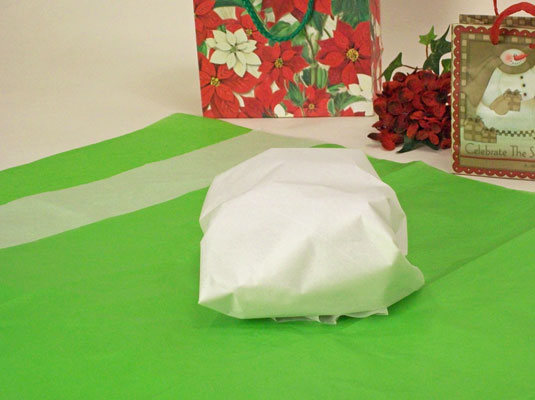 The tissue paper can be all one color or different colors. Use more or less paper, depending on the size of your gift. If the gift is small, use half-sheets of tissue paper.
Gather up the tissue paper, loosely, over the gift.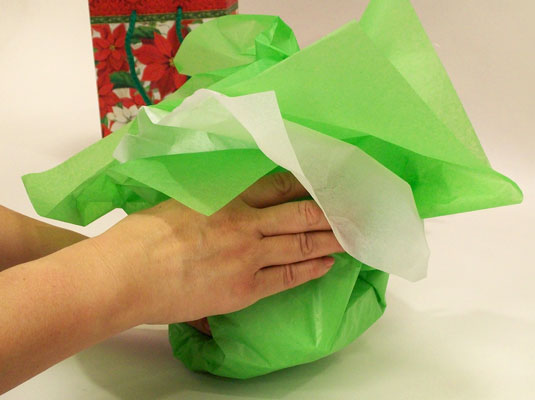 Take two opposite corners of the tissue paper and bring them up over the gift. Hold the paper with one hand while using the other hand to bring up the other two corners. Lightly scrunch the paper together right above the gift, leaving the rest of the paper as wrinkle-free as possible.
Lift the gift by the bottom and place it in the bag; gently arrange the tissue paper to your liking.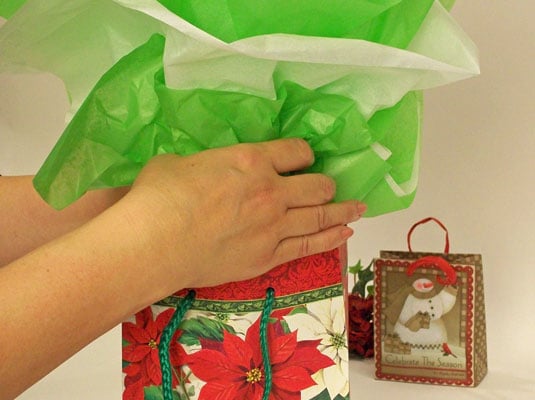 Remember: Tissue paper tears easily, so if you need to pull the tips into place, do so gently! Don't overwork the paper — it'll start to look wrinkled and used.
Add more tissue paper, if needed, as well as a gift tag.

Lay out a single sheet of tissue paper on a flat surface and smooth it out. Place your thumb and forefinger over the center of the paper and pick it up. Give it a quick flick of the wrist. Use your other hand to smooth it out a little; place it in the bag. Repeat as needed, varying the colors.
Take a final look at the tissue paper and arrange as needed.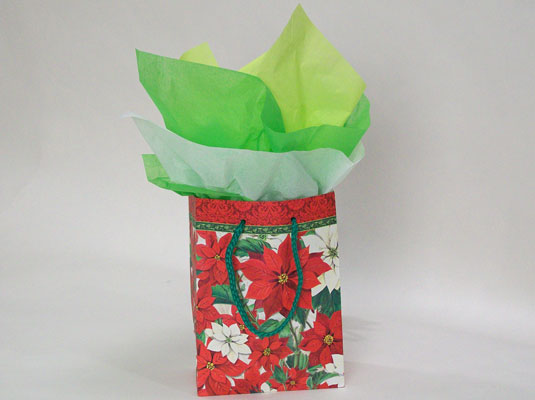 If you want, add bows or embellishments to the bag for a final touch.
About This Article
This article can be found in the category: