Whether you want to change items that you already own or desperately need some budget-conscious ways to begin defining your holiday style, you can start by repurposing, reusing, recycling, and restyling what you already have.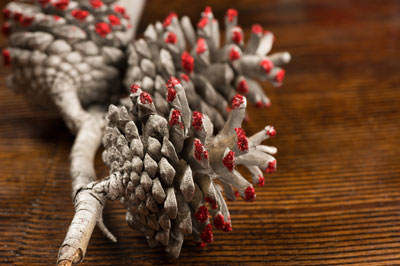 Credit: ©iStockphoto.com / Olaf Seier 2012
Give your things a new purpose
Repurposing means to use an item that's normally used for one thing (like a throw or painter's drop cloth made of cotton canvas) and change it into something else for another function, like turning it into pillows or a slipcover. Repurposing items can mean simply looking at new retail items in a different light.

A copper kettle can become a fireplace accent by holding mounds of scented pinecones that are ready to be tossed into the fire. Think about transforming items from their usual purpose into something else. Repurposing is one of the more creative ways of turning new and previously owned items into works of art.

Reusing items can save you big bucks when decorating for the holidays. Items that are reusable for decorating, such as menorahs, wreaths, bows, and twinkle lights, can save you money. The idea here is to invest once and then use many times for many holidays.

White lights, for example, are heavily used at Christmas. But couldn't you warm up a romantic Valentine's Day night by stringing some up on a balcony or porch for a chilly, snuggly nightcap?

Use your lights on fences, rope off festivity parameters that may be hard to see in the dark, or wind them around tree limbs for lighting your evening from above. You can take individual items from one holiday into the next in many ways if you just plan in advance.
Recycling for creative decoration
Recycling means taking an item that's meant for the trash and turning it into a decorative item. For example, connect clean, empty jars (vintage or hodgepodge) together with aluminum wire, making them into sparkling tealight holders. A roadside chair, with the caning busted out of the seat, turns into a Thanksgiving decorating treasure by placing a large potted mum inside the opening for a welcoming autumnal feel at Thanksgiving.

Yes, you have to be somewhat crafty, and you can't be afraid of cleaning things. Most of all, you have to be daring enough to dive into a pile of rubble to get to that section of picket fencing in order to recycle it into a Halloween vignette.
Freshen up items for restyled décor
Restyling makes ready-made items better. Take a slipcover and embellish it! Have an old wreath? Take out faded flowers or ornaments and add new items or a fresh bow. What about old ornaments? Embellish your heart out. Restyling takes items to a new, personalized level.

You can breathe new life into an item by updating it or giving it a whole new look. Restyling is perfect for you if you're the type of person who never accepts things as they are and says, "But wait till I get my hands on it!"
About This Article
This article is from the book:
This article can be found in the category: