Clay Bead Project for Children
Clay Bead Project for Children
In this Christmas craft project, children make round, single-colored clay beads for garlands, as Christmas tree ornaments, or as jewelry for gifts. Use polymer clay, which you can find in craft stores. Look for brand names like Sculpey, Kato, and Fimo. You need an oven to harden the clay, so supervise the children for this project.
1

Condition the polymer clay before the kids work with it.

Conditioning the clay softens it slightly: Knead and squeeze the clay between your fingers until the clay can stretch without breaking immediately. You need to condition the clay only once, so you can put it away for later at this point.
2

Warm the conditioned clay between your hands and fingers.

This step helps it to become more malleable.
3

Roll the clay and fold it back into itself several times, then pinch off a piece of clay for each child.

Fold the clay onto itself until you can pull the clay and it stretches rather than breaks apart.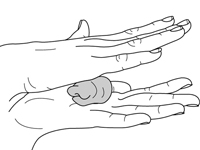 4

Have them roll the clay on the table with the palm of their hand or between their two palms in a circular motion to make the bead round.

Shoot for a finished bead size around 1/4 inch in diameter or so, to keep the baking time down. You can of course make bigger beads depending how long your little artists are willing to wait to string their beads.
5

Insert a round toothpick through the center of the bead.

Make sure the hole you create reaches through the entire bead so you can insert the string through the bead. To ensure that the bead doesn't end up with an exit wound on one side, insert the toothpick until just the tip comes through the other side. Then flip the bead around, and insert the toothpick in the same spot it exited. Gently reshape the bead as necessary.
6

Bake the beads according to the packaged directions, using a glass, oven safe container.

Polymer clays can be baked in the oven. Look for brand names like Sculpey, Kato, and Fimo.
7

Remove the beads from the oven and allow them to cool before stringing.

To create some beads with a little more interest, choose two complementary colors. Condition each color separately then roll each into a log. Twist the two logs together, and then pinch off bead-sized bits. Round the beads with your palm. The more you work the mixed bead, the more the two colors blend together. So if you want to blend two colors to make a new color, this is a great way to do it. But if you prefer a marbled blend of the colors, don't overwork the clay.