Christmas Crafts for Kids: Shoebox Diorama with Peephole
Christmas Crafts for Kids: Shoebox Diorama with Peephole
A shoebox diorama is a great budget craft project to keep children busy during the holidays. To make the diorama, use images from old Christmas cards. You'll end up with a charming decoration that family and friends will enjoy when they peek through the peephole to view a wintry 3-D scene.
1

Gather your materials.

You'll need a shoebox with lid; 6 sheets of thin white cardboard or thick white paper, scissors; white school glue; sharp craft knife; cutting mat; 1 sheet of tracing paper or tissue paper (the kind used in gift wrapping); lots of old holiday greeting cards.

Do the cutting for small children. Craft knives are extremely sharp.
2

Optional: Paint the outside of the box and lid with the color of your choice and allow to dry.

Paint the box for a nice, finished effect if you want to display it for guests to enjoy.
3

Line the inside of the shoebox with thin white cardboard.

Cut sheets to fit each of the five inner faces of the box. Measure out the pieces by drawing around the box; then cut out the pieces and glue in place.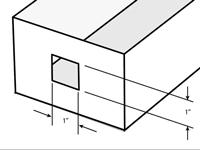 4

Use the craft knife to cut a 1-inch-square hole in one short end of the box.

The hole should be about an inch from the bottom of the box. This forms the peephole.
5

Cut a large hole in the lid.

Make the cuts 1-inch from the edge, all the way around.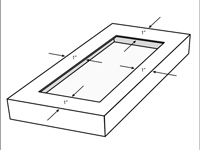 6

Cut your tracing paper so that it fits under the lid and covers the hole; glue into place.

Now you have a "skylight" that lets in light in while blocking out distractions.
7

Choose your images and carefully cut out the pieces.

Just as in real life, things that are far away appear smaller than closer objects, so place the smaller cut-outs in the back, furthest from the peephole.

Help smaller children sort their cards so that small-scale images are at one end of their heap of cards and large-scale images are at the other.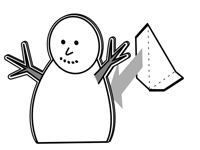 8

Cut out triangle shapes from thin cardboard, and glue a stand to the back of each character.

You don't need special cardboard for the stand; just use the backs of old greeting cards or a section without decoration that you need for the winter scene.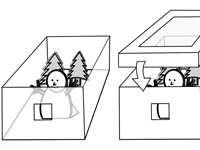 9

Arrange the cut-outs inside the box, and glue in place.

Before you glue everything down, look through the peephole to make sure the scene looks good. After you're happy with their placement, glue the characters down and let the glue dry.

Your project is done. Put the lid on the box and shine a light on the tracing paper. Look through the peephole to see a wonderful winter scene.