For Seniors: View Your Browsing History in Internet Explorer
For Seniors: View Your Browsing History in Internet Explorer
If you went to a site recently and want to return there again but can't remember the name, you might check your browsing history to find it. You can also see what other users have been browsing if you don't have your laptop set up for multiple users.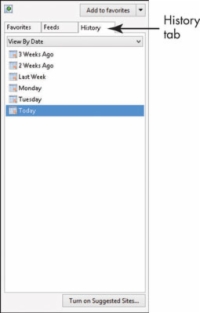 1

In the Desktop Internet Explorer application, click the Favorites button and then click the History tab to display the History pane.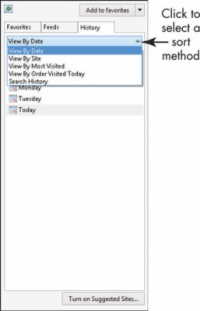 2

Click the down-arrow on the View By button and select a sort method:

View By Date: Sort favorites by date visited.

View By Site: Sort alphabetically by site name.

View By Most Visited: Sort with the sites visited most at the top of and those visited least at the bottom of the list.

View By Order Visited Today: Sort by the order in which you visited sites today.
3

In the History pane, you can click to drill down to sites or pages on a particular site visited on a particular day and then click an item to go to it. The History pane closes.

You can also choose the arrow on the right of the Address bar to display sites you've visited.

Choose Search History on the menu on the History tab to display a search box you can use to search for sites you've visited.