Kindles
If you'll take Stephen King over Candy Crush any day of the week, a Kindle might be for you. Our articles show you how to make your Kindle your new best friend.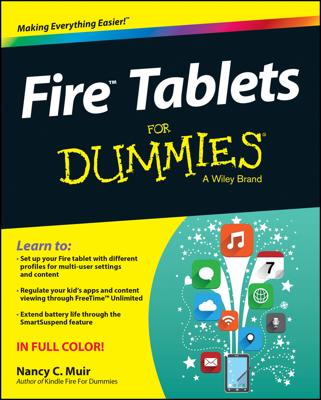 Kindles
Fire Tablets For Dummies
Enjoy endless entertainment with your Kindle Fire, Fire HD, or Fire HDX Tablet!Amazon's growing suite of tablets gives you the power to watch, work, and play wherever you roam. With access to a large music and video collection, a growing app store, a massive library of e-books, and fast, easy one-click shopping, the Fire Tablet is the hottest ticket in town. Whether you're the owner of the original Kindle Fire, Kindle Fire HD, Kindle Fire HDX, or one of the latest and greatest Fire tablet models, this fun and friendly guide will fuel your love of your tablet and help you make the most of its myriad features and capabilities.Although there's a ton of documentation and online support surrounding Fire tablets, much of it is lacking—not to mention packed with jargon that could make even a tech-guru's head spin. In Fire Tablets For Dummies, you'll get easy-to-understand, thorough, and plain-English explanations of the features and topics you'll encounter as you cruise around your cool new device - no matter which model you choose. Burn through the basics of getting connected, going online, and navigating your tablet's built-in apps before moving on to filling your Fire Tablet with games, books, videos, TV shows, magazines, and more. Covers the key features of the original Kindle Fire, Kindle Fire HD, and Kindle Fire HDX as well as the latest features of the new Fire HD and Fire HDX tablets Shows you how to set up your Fire tablet, navigate with the touchscreen, and connect to Wi-Fi Offers clear instruction on browsing the web, receiving and sending email, and posting on Facebook Walks you through new Amazon services available on the latest Fire Tablet models Provides helpful advice on amazing apps to add fuel to your Fire tablet From music to movies, e-books, apps, photos, and beyond, Fire Tablets For Dummies is your one-stop guide to getting more from your Fire Tablet.
Explore Book
Buy On Amazon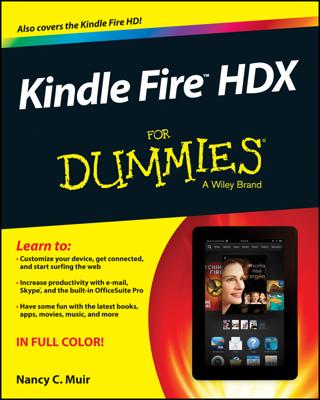 Kindles
Kindle Fire HDX For Dummies
Spark your interest in Kindle Fire HDX and start burning through books, movies, music, and more with this bestselling guide! The Kindle Fire HDX is Amazon's premiere tablet. With its new, more powerful Android operating system, this latest version has some exciting bells and whistles along with the features that have made the Fire a tablet fan favorite: access to the amazing Amazon Appstore, online music storage, a large music and video store, a huge e-book library, and easy one-step ordering from Amazon. This full-color, For Dummies guide shows you how to take advantage of all the Kindle Fire's functionality including browsing the web, sharing photos, watching videos, playing games, downloading apps, reading newspapers and magazines, and personalizing the device for your needs. Covers the Kindle Fire HDX and Kindle Fire HD tablets Walks you through getting connected, navigating the touchscreen interface, working with Kindle Fire's built-in apps, using Amazon Cloud, and getting help from the Mayday feature Helps you stay in touch with social media, e-mail, and Skype and find what you're looking for online with Amazon's Silk web browser Shows you how to stay entertained with the latest apps, movies, TV shows, music, games, e-books, and other cool content for your Kindle Fire HDX or Kindle Fire HD Blaze through Kindle Fire HDX For Dummies and start taking advantage of the hottest tablet in town today!
Explore Book
Buy On Amazon