You can have multiple Kindles, like the Kindle Paperwhite, as well as other devices running the Kindle application (PCs, smartphones, and so on) registered to your Kindle account. You can register a new Kindle Paperwhite either from the device or from your computer via your Amazon account. For other devices, download the Kindle app and register using the device.
If you search or browse for Kindle content from your computer, you can send a sample to any of the devices registered to your Kindle account, including devices that run the Kindle app, such as the iPhone, a BlackBerry, or other PCs. If you search for content on your Kindle Paperwhite, you can send a sample only to the Kindle Paperwhite on which you're doing the searching.
If you enjoy the sample and want to buy the book, you can do so in a number of ways.
The easiest method is to tap the top of the screen.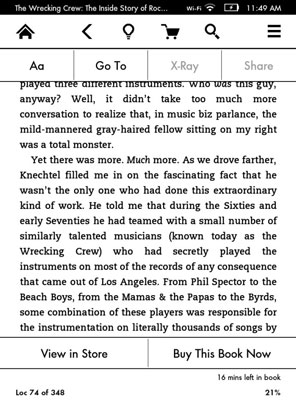 This displays not only the top toolbar but also a special toolbar at the bottom of the screen that appears only in samples, and then tap Buy This Book Now
A second method is to display the toolbar and then tap Menu→Buy This Book Now.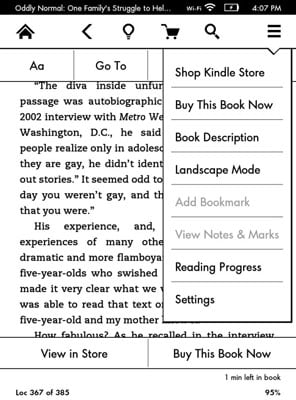 But why take the extra step?
The third method is to purchase the book when you reach the end of the sample.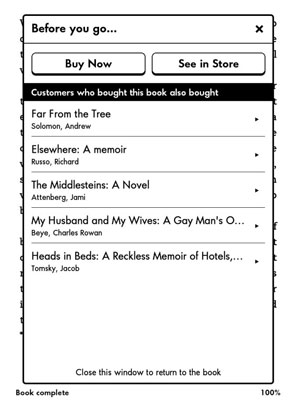 Just tap the Buy Now link to purchase the book.
Note that for all these options, you'll see a prompt to turn on wireless if necessary.
When you choose a Buy option, the purchase is made immediately and your account is charged.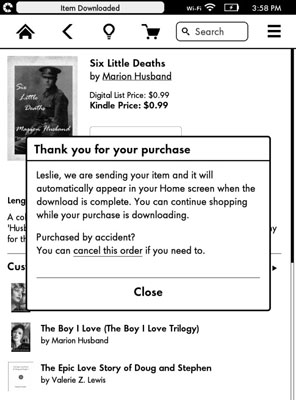 Note, however, that you can cancel the purchase from the screen.
About This Article
This article can be found in the category: