For Seniors: View Currently Installed Printers and Documents in Print Queue
For Seniors: View Currently Installed Printers and Documents in Print Queue
Over time, you might install multiple printers; in which case, you might want to remind yourself of the capabilities of each or view the documents you have sent to be printed.
1

To view the printers you have installed and view any documents currently in line for printing, from the Control Panel, choose View Devices and Printers under Hardware and Sound.

A window will appear.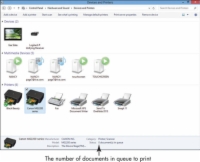 2

In the resulting Devices and Printers window, a list of installed printers and fax machines appears.

If a printer has documents in its print queue, the number of documents is listed at the bottom of the window. If you want more detail about the documents or want to cancel a print job, select the printer and click the See What's Printing button at the top of the window.

In the window that appears, click a document and choose Document→Cancel to stop the printing, if you want. Click the Close button to return to the Devices and Printers window.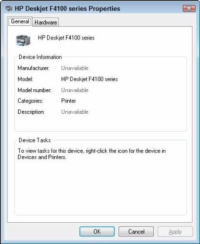 3

You can right-click any printer to display a list of options and then choose Properties to see details about that printer.

These details include things like which port it's plugged into or whether it can print color copies.
4

Click the Close button to close the Devices and Printers window.

The close button is the red X in the upper-right corner.