For Seniors: View an Image in Windows Photo Viewer
For Seniors: View an Image in Windows Photo Viewer
Windows Photo Viewer enables you to view digital photos. You can also use Windows Photo Viewer to e-mail or print photos, burn (save) photos to disc, or display images in a photo slide show on-screen.
1

Choose Start→Pictures.

The Pictures library opens in Windows Explorer, displaying a list of related folders and images. If needed, double-click folders until you locate the image you want to view.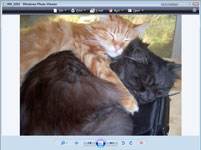 2

Click an image, then click the arrow on the Open button and choose Windows Photo Viewer.

The image is displayed in Windows Photo Viewer.

If you double-click any photo in any Pictures library folder, it opens in Windows Live Gallery, a viewer similar to Windows Photo Viewer but with slightly different menu commands and tools.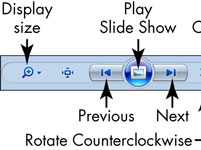 3

Use the tools along the bottom of the viewer to control the view.

Click the Display Size icon (magnifying glass) to display a slider you can drag to zoom in or out. Click the Next and Previous icons to move to a previous or following image in the same folder.

Click the center Play Slide Show button to display the images in this folder in a continuous slide show. To exit the slide show, right-click and select Exit.

Click the Rotate Clockwise or Rotate Counterclockwise icons to spin the image 90 degrees at a time. Click the Delete button to delete the selected image.

If you want to quickly open a photo in another application, click the Open button at the top of the Windows Photo Viewer window and chose a program such as Paint or Microsoft Office Picture Manager.