For Seniors: Use Start Screen Internet Explorer Settings
For Seniors: Use Start Screen Internet Explorer Settings
When you are working in an app on your new laptop, such as Internet Explorer, the Settings you access from the Windows 8.1 Charm bar are specific to that app.
1

With the Start screen IE open, press Win+C to open the Charm bar.

The Charm bar will open.
2

Click Settings and then click Options in the list of settings that appears.

A panel will appear.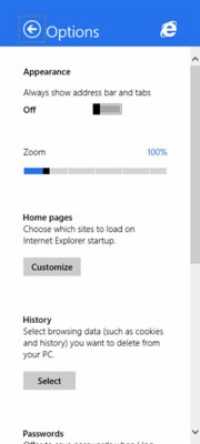 3

In the panel that appears, make selections for the following settings:

Appearance: Use the On/Off slider to always show the address bar and tabs, and the Zoom feature to enlarge or reduce the size of pages in your browser.

Home Pages: Click the Customize button here to choose your IE home pages.

History: Click the Select button here to control what browsing data you want to retain or delete from your laptop.

Passwords: Turn on this feature to be able to go to the next page on a website; information will be sent to Microsoft if you turn this feature on so that they can "improve" your browsing experience.

Phone Numbers: Turn this setting on to be able to call phone numbers you find on a website.

Fonts and Encoding: With this on, IE adjusts for text on a web page that doesn't seem to be in your preferred language.