For Seniors: Use SmartScreen Filter in Internet Explorer
For Seniors: Use SmartScreen Filter in Internet Explorer
When you activate SmartScreen Filter, you allow Microsoft to check its database for any information on the websites you visit. Microsoft alerts you if any of those websites are known to generate phishing scams or download malware to visitors' computers.
SmartScreen Filter is on by default; if it has been turned off, to turn SmartScreen Filter on, open IE from the Desktop (click the Desktop tile from the Start screen if you are not in Desktop and then click the Internet Explorer button in the taskbar) and then follow these steps: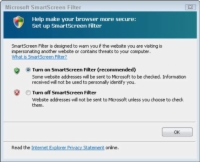 1

Click the Safety menu, and then choose SmartScreen Filter→Turn On SmartScreen filter.

In the confirmation dialog box that appears, click OK.
2

To use SmartScreen Filter, go to a website you want to check. Click the Safety menu, hover your mouse over the SmartScreen Filter command and choose Check This website.

Click OK to authorize the check.
3

The SmartScreen Filter window appears, indicating whether it found any threats. Click the OK button to close the message.

Once turned on, SmartScreen Filter automatically checks websites and will generate a message if you visit one that has reported problems. Keep in mind, however, that this information is updated only periodically; if you have concerns about a particular site, use the procedure given here to check the latest information about the website.