How To Use Skype to Make Calls Online
How To Use Skype to Make Calls Online
Skype is a popular site for making phone calls online using your Internet connection and a technology called VoiP (Voice over Internet Protocol). There are several benefits to using Skype to make phone calls, including
Calls to other users of Skype are absolutely free, even it the other person is located around the world from you. If you call landlines or mobile phones, you still get low rates for your calls using credits that you purchase.
You can use the video feature of Skype along with a webcam to make video calls to others. This is an awesome way to keep in touch with the grandkids or other friends in distant places.
You can store contact information for others and call them with a click.
If you're not at your computer when a call comes in, you can set up a voicemail feature to take messages.
Skype comes preinstalled by manufacturers on some computers. If there is no Skype tile on your Start screen, from the Start Screen, type Skype, and then click on the Store category. In the results, click on Skype, and then on the next page, click Install.
To get set up to use Skype, follow these steps:
1

Click the All Apps button on the Start screen.

Then click the Skype app on the list of apps.
2

On the following screen, Allow or Block Skype from using your webcam and microphone.

Allowing it enables you to make video calls.
3

On the next screen, click Allow or Don't Allow to let Skype run in the background so you can get notifications on the lock screen and open it quickly.

A new screen will appear.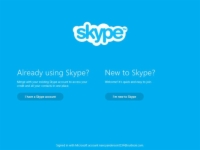 4

Click the New to Skype button to sign in (this sign-in will be based on the Microsoft account with which you signed into Windows 8.1).

On the following screen, click to select whether Skype can contact you by e-mail or SMS or not, and then click the I Agree – Join Skype button to accept the terms.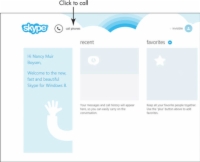 5

The Skype main screen appears. When you have saved people as contacts, their names appear along the right side. Click a contact.

Then click the phone button that appears on the screen to call that person.
6

If you don't have any saved contacts or want to call a different person, click the Call Phones button at the top of the screen.

A new screen will appear.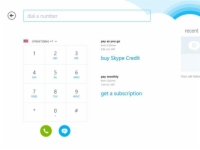 7

In the following screen, click the numerical pad to enter a number to call. Note that if you need to buy Skype Credit to make a call, you can do that from this screen by clicking the Buy Skype Credit or Get a Subscription links, depending on what type of plan you prefer.

If you and the person you're calling both have webcams in your computers, you can click the Video Call button instead of the Call button to initiate a call where you will then see the other person as you talk.

Although using Skype is relatively simple, there is much more you can discover, such as how to purchase credit to call non-Skype members and more.