For Seniors: Use a Laptop's Windows 8.1 Start Screen
For Seniors: Use a Laptop's Windows 8.1 Start Screen
The Start screen is you will begin a session on your Window's 8.1 laptop. Most things you will use on a regular basis will be available to you from this screen.
1

If the Start screen isn't displayed, press the Windows key on your keyboard to display it.

You will find multiple apps on the Start screen.
3

Press the Windows key to return to the Start screen.

The Windows key will return you to the Start screen if you ever feel stuck or don't know how to exit an app.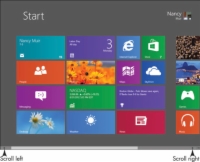 4

Hover your mouse over the bottom of the screen.

On the scroll bar that appears, click the right arrow to scroll to the right and view more apps.
5

Click the left arrow at the bottom of the screen to scroll to the left.

You can also simply click on the bar within the scrollbar and drag it right or left to move from side to side of the screen.