For Seniors: Turn on InPrivate Browsing in Internet Explorer
For Seniors: Turn on InPrivate Browsing in Internet Explorer
InPrivate Browsing is a feature that stops Internet Explorer version 9, 10, or 11 from saving information about your browsing session, such as cookies that form a record of your activities on some sites and your browsing history. InPrivate Filtering allows you to block or allow activity from sites that are automatically collecting information about your browsing habits. InPrivate Browsing is turned off by default.
1

To activate InPrivate for your browsing session, first open IE from the Start Screen.

Internet Explorer will open.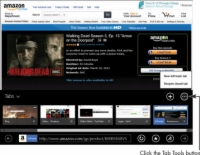 2

Right-click a blank spot on the desktop and then click the Tab Tools button in the tab area.

The Tab Tools button has three dots on it.
3

Choose New InPrivate Tab.

A message appears, telling you that InPrivate Browsing is on.
4

To surf the web privately, click in the Address bar and do one of the following:

Type a web address, click a Frequent tile, or click a Pinned tile.

5

To turn InPrivate Browsing off, right-click to display tabs, and then click the Close button on the InPrivate tab to close it.

If you don't want to use InPrivate Browsing but would like to clear your browsing history manually from time to time, with IE open, press Win+I and click Options. In the History section, click Select and then click to choose what you want to delete. Finally, click the Delete button to delete selected items.