For Seniors: Troubleshoot Windows' Software Problems
For Seniors: Troubleshoot Windows' Software Problems
If you can't figure out why you're having problems with a piece of software, use the Windows' Find and Fix Problems utility to locate the difficulty. For example, perhaps Internet Explorer doesn't display any web pages or can't play a video, or perhaps your Word document won't print or the program keeps crashing. Use Find and Fix Problems to solve the mystery and get your computer life back to normal.
1

Choose Start→Control Panel→Find and Fix Problems (under System and Security).

The Troubleshooting window appears.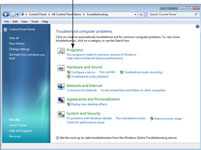 2

Click Programs.

On the Troubleshooting window, you choose what you want to troubleshoot. Let's assume that you want to troubleshoot a non-working program, so click Programs. The Programs window appears.
3

Narrow the problem down by clicking the area in which you're having trouble.

For example, if you click Network, you can troubleshoot your connection to the Internet. Click Program Compatibility to test whether older programs are functioning well with this version of Windows. Program compatibility is a common cause of problems in running software.

Click Printer to find out why you're having difficulty with your printer, including checking for the correct printer-driver software. The options under Media Player to pinpoint problems with the player's general settings, media files, or ability to play DVDs.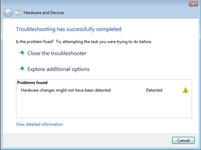 4

Follow the sequence of instructions for the item you selected to let Windows help you resolve your problem.

In some cases, you'll be asked for administrator permission for the troubleshooter to perform an action, so it's a good idea to run the troubleshooting wizard through an administrator-level user account. If necessary, log on as an administrator before starting the troubleshooter.