How To Tag Your Windows' Photos
How To Tag Your Windows' Photos
Tags help to categorize your Windows photos so you can search for them easily. A Windows tag typically describes what's in a photo, such as Family, Holiday, or Washington DC, although you can add a tag that says anything you like.
1

Choose Start→Pictures. Locate the photo you want, right-click it, and choose Properties.

The Properties dialog box appears.
3

Click the Tags item.

A field appears.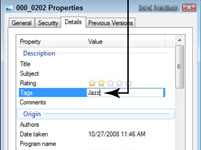 4

Enter a tag(s) in the field and click OK.

The tag is saved. If you display your Pictures library in Windows Explorer in Details view, you'll see the tag listed next to the photo. Tags are also used when you view photos in Windows Media Center.

To delete a tag, just display the photo Properties dialog box again, click to the right of the tag, and press Backspace.

To see a list of all photos in the Pictures library organized by tags, click the arrow on the Arrange By item and choose Tag. Also, when you click a photo in Windows Explorer, its details, including any tags attached to it, appears at the bottom of the window.