For Seniors: Switch Windows 8.1 User Accounts
For Seniors: Switch Windows 8.1 User Accounts
If you have set up your computer to have multiple user accounts, you can switch user accounts in Windows 8.1 when necessary. Having multiple user accounts allows you to keep information safe if several people are using the same computer.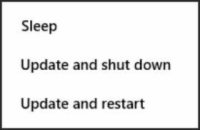 1

To change to another user account after you've logged in, you can click the logged in user's name in the upper right corner of the Start screen and choose Sign Out.

Alternatively, you can click the Power button in the Settings screen and then click Sleep. Windows 8.1 logs off.
2

Drag the welcome screen that appears upward.

After you do this, a screen will appear prompting you with new user information.
3

Click the username you want to log in with, type the password, and press Enter to go to the Windows Start screen.

The new user will now see the Start screen and have the same options under their account that all other users have.

Note: If you have young children sharing a computer with you, you might want to look into setting up user accounts for them with limited functionality and safety settings to prohibit what they can do and what kind of information they can access.