For Seniors: Subscribe to RSS Feeds Through Internet Explorer
For Seniors: Subscribe to RSS Feeds Through Internet Explorer
An RSS feed contains frequently updated content from a website, such as breaking news. Subscribe to an RSS feed through Internet Explorer, and you'll easy stay on top of what's new on a website.
An RSS feed is typically made up of a series of headlines followed by a descriptive paragraph, with links to the complete story elsewhere online. Sometimes, links to pictures related to the story are also included in the RSS feed.
You can also subscribe to a Web Slice using Internet Explorer. A Web Slice is an RSS feed for a specific portion of a web page, rather than the whole thing.
1

First, navigate to the web page that contains the RSS feed you want to add.

When a web page has an RSS feed, the Feeds button on the Command bar (located on the right) is activated. If Web Slices are available on a page, the Feeds button changes to a Web Slices button.
2

Click the Feeds button and select the RSS feed you want to subscribe to.

A description of the RSS feed and a sample page of the stories associated with the feed appears.
4

Click the Subscribe button.

You're subscribed to the RSS feed, and it's added to the Feeds list.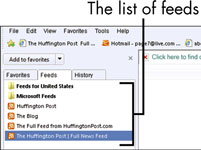 5

To view the RSS feeds you've subscribed to, click the Feeds tab on the Favorites bar.

To display the Favorites bar, click the Favorites button (the star). When you click the Feeds tab, a list of RSS feeds you've subscribed to appears.
6

Click a feed in the list.

The RSS feed appears in Internet Explorer.

Though Internet Explorer has an RSS feed reader built in, you can explore other feed readers. Just type RSS feeds into Internet Explorer's Address bar to find more information and listings of readers and RSS feed sites. If you use Outlook, RSS feeds can be synchronized with it, and you can read them there just as you might incoming messages.