For Seniors: Start Windows in Safe Mode
For Seniors: Start Windows in Safe Mode
Windows' Safe Mode is a limited starter mode you can use to investigate and eliminate problems. When Windows starts in Safe Mode, it makes active only the files and drives necessary to start Windows. If your computer runs fine in Safe Mode, you can eliminate the Windows default settings and device drivers as the source of your problem.
For example, you might start your system in Safe Mode in order to perform a system restore back to a time before the problems started. You can create these system restore points easily, just for times like these.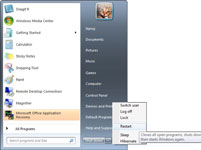 1

Remove any CDs or DVDs from your laptop, then choose Start, click the arrow on the right of the Shut Down button, and then choose Restart to reboot your system.

The laptop starts to reboot (the screen goes black)
2

As the system reboots, begin pressing F8.

If you have more than one operating system installed on your laptop, you might see the Windows Boot Manager menu. Use the up- and down-arrow keys to select the Windows 7 operating system. Or type the number of that choice, press Enter, and then continue to press F8. The Advanced Boot Options dialog box appears.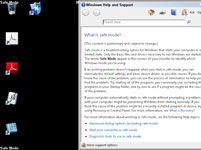 3

Press the up- or down-arrow key to select the Safe Mode option from the list and then press Enter.

After you log in to your laptop with administrator privileges; a Safe Mode screen appears. The words, "Safe Mode" appear in the corners of your screen to remind you of this fact. Use the tools in the Control Panel and the Help and Support system to figure out your problem, make changes, and then restart. When you restart again, let your laptop start in the standard Windows 7 mode.

Once the computer has started in Safe Mode, you're in the old text-based world that users of the DOS operating system will remember. You'll notice that your mouse will not work, and that there are no fun sounds or cool graphics to soothe you. In Safe Mode, you must issue commands using arrow keys and keyboard shortcuts.

When you're troubleshooting and trying things like starting in Safe mode, it's a good idea to plug in your laptop, if possible. Some of these procedures can take some time, and you don't want to run out of battery power while running an important diagnostic and add to your woes!