How To Start a Windows 7 Program Automatically
How To Start a Windows 7 Program Automatically
If you use a Windows 7 program often, you can have it launch automatically every time you start your computer. Having Windows automatically start your favorite programs for you whenever you startup your computer saves you the time and trouble of starting each program yourself.
For example, if you check e-mail and then browse the Internet every day, you can have Windows start your e-mail program and your browser for you while you sip your morning coffee.
If you place too many programs in Startup, it might take a minute or two before you can get to work because you have to wait for programs to load. Don't overfill your Startup folder: Use it just for the programs you need most often.
1

Click Start→All Programs.

A list of all the programs on your computer appears.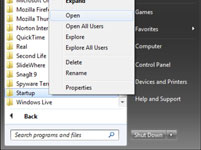 2

Right-click the Startup folder and click Open.

You may have to scroll down to see the Startup folder near the bottom of the menu. After you click Open, the contents of the Startup folder appear in an Explorer window.
3

Right-click Start and choose Open Windows Explorer.

Another Explorer window opens.
4

Locate the program you want to start when you start Windows, then drag into the Startup folder.

A shortcut icon to the program appears in the Startup folder. Repeat this process to add other programs to the Startup folder.
5

Click the Close button in the upper-right corner of both Explorer windows to close them.

The programs you moved will now open every time you start Windows 7.

You can remove an application from Startup folder by right-clicking the application in the Startup folder in Windows Explorer and choosing Delete.