For Seniors: Shut Down a Nonresponsive Windows Application
For Seniors: Shut Down a Nonresponsive Windows Application
Sometimes in Windows, an application may freeze and become nonresponsive. If a program no longer responds to keypresses or mouse commands, you may need to force that program to shut down.
Luckily, if any programs cause your system to crash (meaning it stops responding to commands), you can simply shut that program down by using the Windows Task Manager. This utility keeps track of all the programs and processes that are running on your laptop, and so it can be used to stop them when they don't respond normally to your commands.
1

If your laptop crashes and won't let you proceed with what you were doing, press Ctrl+Alt+Del.

The screen goes dark for a moment, and then a list of options appear.

If pressing Ctrl+Alt+Del doesn't bring up the Task Manager, you're in bigger trouble than you thought. You might need to press and hold your laptop power button to shut down your computer. Note that some applications use an AutoSave feature that keeps an interim version of the document that you were working in — you might be able to save some of your work by opening that last-saved version.

Other programs don't have such a safety net, and you simply lose whatever changes you made to your document since the last time you saved it. The moral? Save, and save often.
2

Click Start Task Manager.

The Windows Task Manager dialog box appears.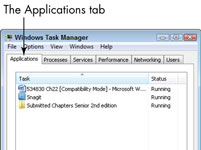 3

Click the Applications tab, select the application that has stopped responding, and click the End Task button.

Windows Task Manager attempts to shut the program down, and if it does not respond, it will tell you that the application isn't responding and will ask whether you want to shut it down now.
4

Click Yes to shut down the program.

After a few moments, the program is shut down.

A dialog box may appear when an application shuts down, asking whether you want to report the problem to Microsoft. If you say yes, information is sent to Microsoft to help them provide advice or fix a problem in Windows down the road.