How To Share Photos and Videos Online with Flickr
How To Share Photos and Videos Online with Flickr
Image-sharing sites such as Flickr allow you to share photos and videos over the Internet. Sharing photos and videos online through Flickr gives you a chance to share memories with family and friends who are distant.
Other image-sharing sites such as Snapfish and Shutterfly work similarly to Flickr, which is discussed here. In addition, you may be able to share photos and videos through a social networking site such as Facebook.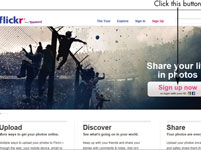 1

Visit Flickr and click the Sign Up Now button.

Go to Flickr to create an account.
2

Click Create New Account.

If you click Create New Account, a form appears in which you can enter information to create the account.

You can skip the process of creating a new account and log into Flickr using your Yahoo!, Google, or Facebook account information.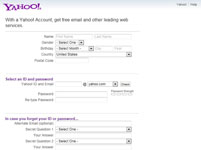 3

In the form that appears, enter the required information about you, your ID and password, and password questions.

Enter the information required to create a new account.
4

Enter the code that's displayed at the bottom of the form, and then click the Create My Account button.

The opening screen telling you how to get started using Flickr.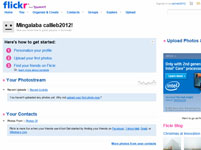 5

To upload files, click the Upload Your First Photos link.

On the following screen, click the Choose Photos and Videos link that appears. The Select Files to Upload dialog box appears.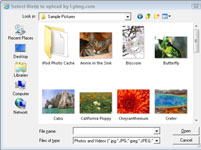 6

Locate the photo or video you want to upload and click the Open button.

The Upload to Flickr dialog box appears.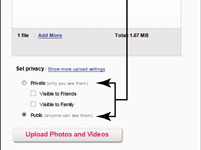 7

Click to select a privacy level

Private makes your images visible only to friends (or to friends and family), while Public makes them viewable by anybody.
8

Click the Upload Photos and Videos button.

A bar is displayed to show your upload in progress. At this point, you can add a description to the file if you like by clicking the Add a Description link.

To see the photos you have uploaded to Flickr (called your Photostream), Click the You tab at the top of the screen. Once you've uploaded images you can tag them or identify which people appear in them so you can search them easily, set them up in Galleries, or designate Favorites.