For Seniors: Share a SkyDrive Folder with Others
For Seniors: Share a SkyDrive Folder with Others
SkyDrive's purpose is to allow you to share files with others, but you can only share folders from SkyDrive if you go to the site online (rather than using the SkyDrive tile on your Start screen). Sharing can involve allowing others to view content, or granting permission to edit it.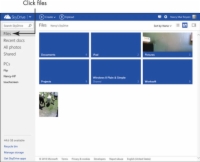 1

Open SkyDrive in a browser.

Click Files to display the Files list. You should see folders with your files.
2

Right-click a folder.

A drop down list will appear.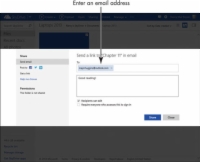 3

Choose Sharing. A warning may appear about sharing and your privacy; click Share this Folder to proceed.

Enter an e-mail address.
4

You can enter a note.

This step is optional. It may help with organization, but isn't necessary.
5

If you don't want to allow the person you're sharing with to edit files, deselect the Recipients Can Edit check box.

If you want the person you're sharing with to edit files, do nothing.
6

Click Send.

When you share a word-processing file with another person on SkyDrive and grant permission to edit it, she can edit it in a Word web App (a cloud version of Microsoft Word) or open the document in Microsoft Word on her computer.