How To Search Windows 8.1 Help
How To Search Windows 8.1 Help
The Help and Support window on your Windows 8.1 laptop provides access to a variety of topics. This is the best place to try first if you encounter a problem with your laptop.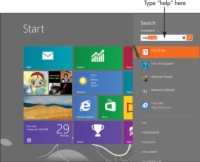 1

Begin to type help from the Start screen and then click Help and Support in the results to display it.

The Help and Support window will appear.
2

Click in the Search field, enter a search term, and click the Search button

The Search button is the button with a drawing that looks like a magnifying glass.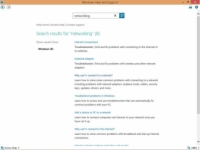 3

In the resulting screen, click an article to narrow your search or open an article, depending on the topic.

The article will appear.
4

Click the Close button to close the Windows Help and Support window.

If your search contains one, click a Troubleshoot item to get a step-by-step walkthrough of possible solutions to common problems. Some troubleshooting topics will even run a check on your laptop to attempt to find a solution specific to your computer. In addition, you may encounter some video links that take you to step-by-step video instruction.

If you don't find what you need with Search, consider clicking the Browse Help link in the Windows Help and Support window to display a list of major topics. Those topics may also give you some ideas for good search terms to continue your search.