For Seniors: Search for Files, Settings, and Apps on a Windows 8.1 Laptop
For Seniors: Search for Files, Settings, and Apps on a Windows 8.1 Laptop
Windows 8.1 has an integrated search feature that you access by simply typing on the Start screen. Typing part of the name of any file, setting, or app brings up the Search screen and any search results.
This is the easiest way to open an app that doesn't have a dedicated tile on the Start screen. If you type a topic such as Winter Olympics and click it in the results, you get a full search of articles, images, websites, apps, and more that you can browse to your heart's content.
1

With the Start screen displayed, begin to type air.

A search screen will appear.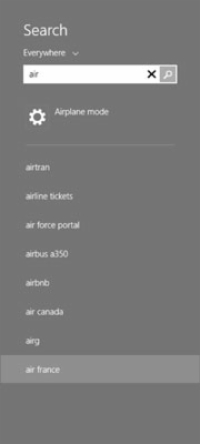 2

On the Search screen that appears, click Air France and scroll through the results

The results may range from a Wikipedia entry about Air France to articles from the Air France Magazine and travel discount offers.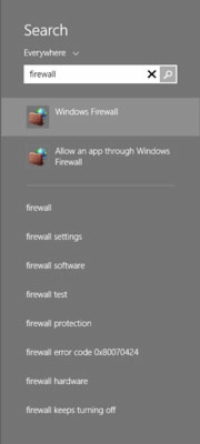 3

Press the Windows key to go to the Start screen and type firewall.

Click Windows Firewall in the results to go to the Windows Firewall settings in the Control Panel.
4

Press the Windows key on your keyboard to return to the Start screen.

Desktop apps open in the Desktop, and Windows 8.1 apps (those designed to be accessed through tiles on the Start screen) open full-screen. To test this out, type taskbar from the Start screen and then click Taskbar and Navigation. The Taskbar and Navigation Properties dialog box appears on the Desktop.