How To Search for a Windows File
How To Search for a Windows File
Search for files you can't locate in the Computer window of Windows 7. Search can not only look through filenames, but also the contents of files to find a match.
1

Open the Start menu and type a search term in the search box at the bottom.

A list of search results appears, divided into categories based on the locations of the results.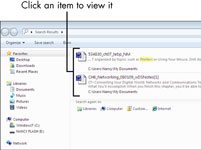 3

Click an item to view it.

A description of the selected file appears at the bottom of the window.

To save the results of a search, click the Save Search button at the top of the window. In the Save As dialog box that appears, provide a filename and type, set the location to save it to, and then click Save. The search results are saved as a search folder on your laptop in your username folder.

You can modify the Search feature's settings by clicking the arrow on the Organize button and choosing the Folder and Search Options command. Using the Search tab in the Folder Options dialog box that appears, indicate what locations to search, whether to find partial matches for search terms, and more.
4

When you locate the file you want, you can double-click it.

The file opens.