For Seniors: Search a Web Page Using Desktop Internet Explorer
For Seniors: Search a Web Page Using Desktop Internet Explorer
If you have a laptop that uses Windows 8 or 8.1, you will have the option of using Desktop Internet Explorer to search web pages. To do so, just follow these simple steps:
1

With Desktop Internet Explorer open, enter a URL in the address field, and press Enter.

Click the Edit menu on the IE toolbar (if this doesn't appear on your screen, right-click in the toolbar area and click Menu bar to display it) and choose Find on this Page.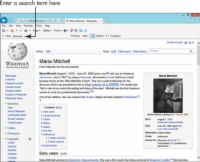 2

In the resulting Find toolbar that appears on the top of the page, enter the word that you want to search for.

As you type, all instances of the word on the page are highlighted.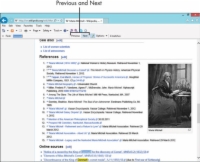 3

Click the Next button to the right of the Find field and you move from one highlighted instance of the word to the next.

If you want to move to a previous instance, click the Previous button.
4

When you're done searching on a page, click the Close button at the left end of the Find on this Page toolbar.

Many websites have a Search This Site feature that allows you to search not only the displayed web page but all web pages on a website, or to search by department or category of item in an online store. Look for a Search text box and make sure that it searches the site — and not the entire Internet.