For Seniors: Schedule Windows' Maintenance Tasks
For Seniors: Schedule Windows' Maintenance Tasks
Every machine, including your laptop, runs better with regular, routine maintenance. In Windows, you can schedule regular maintenance such as defragmentation, disk cleanup, and virus scans. By scheduling these tasks to run automatically, you can avoid disruption in your work routine while keeping your laptop running in tip-top shape.
You can schedule Windows to run a program, send an e-mail, or display a message automatically.
1

Choose Start→Control Panel→System and Security and then click Schedule Tasks in the Administrative Tools.

The Task Scheduler dialog box appears.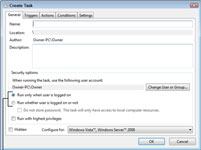 3

Enter a task name and description. Choose when to run the task (only when you are logged in, or whether you're logged in or not).

If you schedule a task to run when no one is logged into the computer, then the task may need your password in order to gain the proper permissions to do what it needs to do. For most maintenance tasks, you do not need to supply a password.

If you are scheduling a task that only the system administrator can do, then click Change User and select that user from the list.
4

Click the Triggers tab and then click New.

In the New Trigger dialog box, choose a criterion in the Begin the Task drop-down list and use the settings to specify how often to perform the task, as well as when and at what time of day to begin. Click OK.
5

Click the Actions tab and then click New.

In the New Action dialog box, choose the action that will occur from the Action drop-down list. These include starting a program, sending an e-mail, or displaying a message. Depending on what you choose here, different action dialog boxes appear. For example, if you want to send an e-mail, you get an e-mail form to fill in. Click OK.
6

If you want to set conditions in addition to those that trigger the action, click the Conditions tab and enter them.

For example, you might want to schedule a task to run only when the computer is idle for an hour or so, or running on AC power and not battery power.
7

Click the Settings tab and select how the task runs.

After you complete all selections, click OK to save the task.