How To Save Favorite Websites in Internet Explorer
How To Save Favorite Websites in Internet Explorer
If there's a site you intend to revisit, you may want to save it to Internet Explorer's Favorites folder so you can easily go there again without having to search for it each time you want to view the website.
1

To use this feature, open IE from the Desktop, enter the URL of a website that you want to add to your Favorites list, and then press Enter.

Your website will open.
2

Click the Favorites button to display the Favorites pane.

The Favorites button is a star near the top right corner of the browser screen.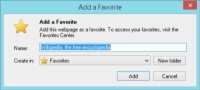 3

In the resulting Add a Favorite dialog box, modify the name of the Favorite listing to something easily recognizable.

If you wish, choose another folder or create a folder to store the Favorite in.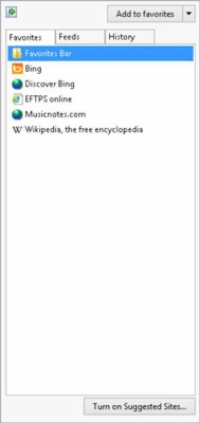 4

Click the Add button to add the site.

When you want to return to the site, click the Favorites button and then click the name of the site from the list that's displayed.

Regularly cleaning out your Favorites list is a good idea — after all, do you really need the sites that you used to plan last year's vacation? With the Favorites Center displayed, right-click any item and then choose Delete or Rename to modify the Favorites listing.

You can keep the Favorites Center as a side pane in Internet Explorer by displaying it and then clicking the Pin the Favorites Center button (it has a left-facing green arrow on it and is located in the top-left corner of the pane).