For Seniors: Restrict Websites in Internet Explorer
For Seniors: Restrict Websites in Internet Explorer
You can set up Internet Explorer to recognize websites you trust — and those to which you don't want Internet Explorer to take you or anybody else who uses your laptop.
1

Click the Internet Explorer icon in the Desktop taskbar.

This will open your browser.
2

Choose Tools→Internet Options.

The Internet Options dialog box will open.
4

Click the Trusted Sites icon and then click the Sites button.

The Trusted Sites dialog box will appear.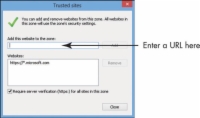 5

In the resulting Trusted Sites dialog box, enter a URL (website address) in the Add This website to the Zone text box for a website you want to allow your laptop to access.

If you wish to allow any locations for particular companies, such as Microsoft, you can use a wildcard (a character that tells the computer to trust all sites that include that word in the URL).
6

Click Add to add the site to the list of websites.

Repeat Steps to add more sites.
7

When you're done, click Close.

Click OK to close the Internet Options dialog box.
8

To designate sites that you don't want your laptop to access, repeat Steps 1–8, clicking the Restricted Sites icon rather than Trusted Sites in Step 4 to designate sites that you don't want your laptop to access.

In the Trusted Sites dialog box, if the Require Server Verification (https:) for All Sites In This Zone check box is selected, any trusted site you add must use the https prefix, which indicates that the site has a secure connection that can protect you during online payment transactions.

You can establish a Privacy setting on the Privacy tab of the Internet Options dialog box to control which sites are allowed to download cookies to your laptop. Cookies are tiny files that a site uses to track your online activity and recognize you when you return to the site.

Some sites need to use cookies to allow you to use your account — and that's fine — but other sites may use cookies to track (and even sell information about) your online activities that could put you at risk.

Trusted sites are ones that you allow to download cookies to your laptop even though the privacy setting you have made might not allow other sites to do so. Restricted sites, on the other hand, can never download cookies to your laptop, no matter what your privacy setting is.