For Seniors: Restore the Windows System
For Seniors: Restore the Windows System
After creating a Windows system restore point, you can easily restore a working Windows system to your laptop should disaster happen. A system restore point saves important system files so they can be restored if needed.
Typically, you create a system restore point prior to installing new software or hardware so if that installation goes wrong somehow (for example, the laptop appears sluggish or hangs up), you can restore a working Windows system.
When you perform a system restore, it's important to note that Windows restores only the saved system files, so your personal files are not affected. To protect those files, you should perform a backup of your documents from time to time.
1

Choose Start→Control Panel→Back up Your Computer (under System and Security).

The Back Up and Restore window appears.
2

Click the Recover System Settings on Your Computer link.

The Recovery window appears.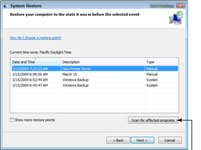 4

Click the system restore point to which you want to restore the laptop and then click the Next button.

A dialog box asks you to confirm that you want to run System Restore and informs you that your laptop will need to restart to complete the process.
5

Close any open files or programs, and then click Finish to proceed.

The system goes through a shutdown-and-restart sequence, and then displays a dialog box that informs you that the System Restore has occurred. Click OK to close it.

If you're concerned about what changes will happen during the restore, click the Scan for Affected Programs button.

System Restore doesn't always solve the problem. Your very best bet is to be sure you create a set of backup discs for your laptop when you buy it. If you didn't do that, and you can't get things running right again, contact your laptop manufacturer.

The company may be able to send you a set of recovery discs, though they may charge a small fee. These discs restore your laptop to its state when it left the factory, and you lose applications you installed and documents you created — but you get your laptop running again.