How to Remove a Printer from Your Laptop
How to Remove a Printer from Your Laptop
Over time, you might upgrade to a new printer and toss the old one. When you do, you might want to also remove the older printer driver from your laptop so that your Printers window isn't cluttered with printers that you don't use anymore. Remember that you can recycle your old printer to be environmentally friendly.
1

To remove a printer, from the Control Panel, click View Devices and Printers.

The Devices and Printers option is located in the Hardware and Sound group.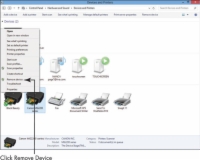 2

In the resulting Devices and Printers window, right-click a printer and choose Remove Device.

Or you can select the printer and click the Remove Device button at the top of the window.
3

In the Remove Device dialog box that appears, click Yes; the Devices and Printers window closes, and your printer is removed from the printer list.

If you remove a printer, it's removed from the list of installed printers; if it was the default printer, Windows makes another printer you have installed the default printer. You can no longer print to the removed printer, unless you install it again. See the task, "Install a Printer," if you decide you want to print to that printer again.